New Way to Pay in Duke Parking Garages
Pay station system begins rollout in November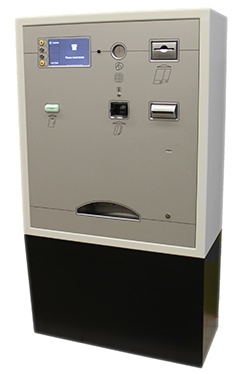 The ease of pay stations commonly found at airports and on the streets of metropolitan cities is coming to Duke.
In early December, the first automated pay station will be operational in Parking Garage III on Fulton Street, adjacent to North Pavilion. After that, the pay-on-foot stations will rollout throughout 2015 to Parking Garages I and II, Research Drive Garage and the Bryan Center Garage.
Similar to machines found at Raleigh-Durham International Airport, the stations will allow for patrons to pay at a central station before exiting a garage. In-person attendants will no longer accept payment in exit lanes, and parking fees will be enforced 24 hours a day, seven days a week, including holidays.
"Our goal is to provide a streamlined experience that are customers are already accustomed to elsewhere," said Melissa Harden, assistant director for strategies with Parking and Transportation. "Our new stations mean people aren't waiting in line, cars aren't idling and there will be significantly less time involved in the exit process."
Here's how the new system works:
When entering a garage, drivers push a button on automated machines and take a timed ticket.
Patrons should take the ticket with them when they leave their vehicle.
Before returning to a vehicle, motorists pay for parking at a centralized pay station machine by inserting the ticket and remitting payment.
The pay station will return the paid ticket, which is inserted into a machine at the exit gate.
Pay stations in Parking Garage III will be on ground floor elevator lobby and on the fourth level, near the Ambulatory Surgery entrance.
Pay stations accept cash, credit cards, and Duke-issued "validation" tickets, which provide discounted parking. Parking fees are enforced 24 hours a day, seven days a week, including holidays.
Duke departments that issue parking discount coupons to patients and their families can exchange coupons for the new validation tickets by sending an email to Parking and Transportation Services at tranpark@duke.edu or by calling (919) 684-7275.
As the new system rolls out, Parking and Transportation Services staff will be present to assist customers using the pay stations in the first weeks of operation. If a staff member is not available, patrons can request assistance from a customer service representative by pressing the pay station's intercom button.