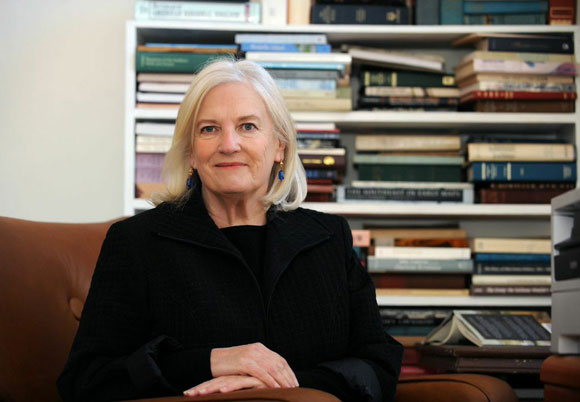 Author Josephine Humphreys, pictured in her Charleston office. Photo by Peter Finger.
Novelist Josephine Humphreys began writing as a child, but never knew she would actually write books or make a life of the thing she loved to do. 
"I knew I loved writing, but I didn't think I could quote 'be a writer'," says Humphreys, an Angier B. Duke Scholar from the Class of '67. "It was just too ambitious – too big. But in Reynolds Price's class at Duke, my freshman year, I began to see that it was possible. He talked about writing as not a career, but as something more important, as something that would be a part of your life forever."
Humphreys would go on to earn her Masters in English Literature at Yale and later a doctorate degree. She taught writing at Baptist College, in her hometown of Charleston, putting her writing on hiatus, a very long hiatus.
"Eleven years went by before I started writing fiction," says Humphreys. "Not only did I not submit a novel, I did not write anything. I did not write for eleven years. There was a good bit of fear that I couldn't do it. Aside from Reynolds, I don't think I even knew another writer, or had even met another writer." 
Humphreys' first book, Dreams of Sleep earned the Hemingway Foundation/PEN Award.
"One of the first reviews of Dreams of Sleep said, 'This book reads like this lady has been storing up stuff to write for the last 10 years'," Humphreys chuckles. "And it was true. When I finely came to write, I just realized I couldn't go on the way I was going. I liked teaching. I loved being a mom. I was having a good time, but there was just something missing and something in me that I had to get back to. That's when I quit work and started writing."
Her novel Rich in Love was adapted into a 1993 film, starring Albert Finney and Jill Clayburgh. Humphreys won the 2001 Southern Book Award for Nowhere Else on Earth. Although it's her personal favorite of the books she has penned, Humphreys admits she was nervous about the subject matter. The book is based on the history of the Native American Lumbee Tribe of North Carolina.
"I'm writing about people of color. I'm not a person of color. And that raised a lot of ethical questions. Can white people use these stories from non-white people? I thought it over very carefully. No, it's not right to do. Then I went ahead and did it anyway, because it was a passionate interest of mine. At times during that process I would be seized by fear."
Although members of the Lumbee community encouraged her to proceed, Humphreys worried about the Lumbee reaction. She read the local newspaper review.
"The first line of the story said, 'How many times do we have to say this? No more white people coming in and doing this.' And then it said, 'But there are exceptions to the rule. This is a book that you should all go out and buy, right away.' And they did. They were wonderful."
Long before the book awards and the big screen, Humphreys knew she had someone in her corner. "It was nice to be in college and know that someone was glad that you were there," she says. "That's what the A.B. Duke scholarship meant to me."
  On Writing
"Morning." It's Josephine Humphreys' one-word and emphatic answer to her favorite time of day to write. She's sitting in her Charleston writing studio, having just returned from Haiti, for research on her next book. "And as I get closer to finishing the book I get up earlier and earlier each morning until I'm getting up at 1 a.m."
As for discipline?
"I don't even like the word. I'm so undisciplined I don't even like to think about it." But when she's ready to work, Humphreys is full throttle.
"There's something in my brain that makes me go full speed when I start. I some times even spend the night in the office. I sink into the book and there's no other reality for me for a while. That's the state of mind that's most wonderful and most mysterious for me as a writer.
"It amazes me that somebody can write a novel or a collection of short stories. Even now I look back at some of my books and I think, 'That's pretty good. How in the world did I do that? How did I write that?' And when I'm writing I don't like what I've written. I've never been happy with a book when I finish it and send it off to the publisher. Two or three years later, I look at it and I think, 'Oh gosh, that's really good.'" 
Her advice to beginning writers is simple.
"Read.  I don't really think that's a separate thing from writing. I have this secret faith that almost anybody can write. If you read a lot, if you're interested in people, you can write. We all have language. Every child has language. Work hard, read hard, and laugh a lot."
This article originally appeared in Distinction, the magazine of Duke Office of Undergraduate Scholars and Fellows