The Blue Devil Halloween Photo Contest Winner Is…
More than 1,300 votes cast, 41 photos submitted in the 4th annual contest
Duke Engineering's staff dominoes lined up 333 votes to win the grand prize in the 4th annual Working@Duke Blue Devil Halloween Photo Contest.The photo of Duke Engineering Professional Masters Programs staffers dressed in black clothes with white Styrofoam dots and lined up on the floor as dominoes took an early lead in this season's contest, which drew 41 photo submissions from individuals and teams across Duke.Staci Thornton, the Duke Engineering Professional Masters Programs academic coordinator who submitted the winning photo, said she and her officemates started preparing for the Halloween contest after they received second place last year for their Star Trek group photo. They garnered the most votes this year by sharing their submission with friends, family and students.The Duke Engineering group will receive coffee mugs decorated with the team's winning contest photo."We're a very close-knit staff and we take it very seriously," Thornton said. "It's definitely something we're all proud of."The Department of Psychiatry and Behavioral Sciences received the second highest number of votes with 138 "likes" on the Working@Duke Facebook album for its different Blue Devil costumes, from a blue-deviled egg to a Blue Devil's advocate, and the Duke Graduate School had the third most votes, at 101, for its photo of Cruella De Vil surrounded by Dalmatian puppies.The Working@Duke editorial team gave the "most creative" photo award to Duke Undergraduate Admissions for its group photo. It included costumes such as jetBlueDevils Airlines pilot and flight attendants, Dean Christoph Guttentag as the Admissions website surrounded by different web platforms, and someone dressed as West Campus construction.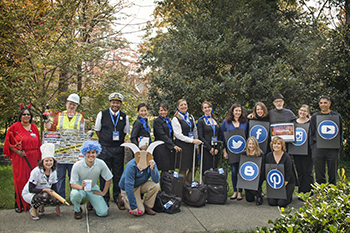 The costumes were detailed, down to personalized safety pamphlets and luggage tags for the flight attendants, said Elizabeth Harlow, the Duke senior admissions officer who submitted the most creative photo from Undergraduate Admissions."We had a Halloween party over lunch, and they came in with their flight attendant costumes with little trash bags, cleared the table and offered peanuts and water and really got into character," Harlow said.
The "spookiest" photo award from the editorial team went to Tyler Lee, a staff assistant in the Duke Institute for Brain Sciences, for her eerie take on the Disney villain Maleficent. The entire costume took about 10 hours to make, Lee said. "Halloween's my favorite holiday," she added. "It's just an opportunity to be somebody that you're really not."Both the spookiest and creative winners will receive bags of candy.To view all of the submissions to this year's Blue Devil Halloween Photo Contest, visit the Working@Duke Facebook photo album.