Serving as 'Chief Cheerleader'
Larry Moneta predicted he'd end up in student affairs on a North Carolina campus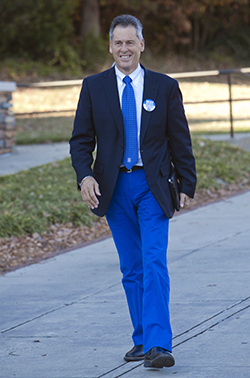 Name: Larry Moneta
Position: Vice president for student affairs
Years at Duke: 13
What I do at Duke: My time is balanced between internal responsibilities such as budget and personnel matters, consulting with my assistant vice presidents and unit directors on a myriad of issues, overseeing numerous projects (construction, renovations, research, programmatic and otherwise), and serving as chief cheerleader and motivator. My external responsibilities include collaborating with other vice presidents at Duke, deans of the schools and colleges, Alumni Affairs, Athletics, Police, IT and dozens of other agencies and friends with whom we must collaborate every day. (Moneta also is responsible for services and programs that support more than 13,000 undergraduate, graduate and professional students, including housing, dining, health care, career services, student activities, cultural centers, and event and media services.)
Read More
If I had $5 million, I would: Probably give a lot of it to our kids, prepay their college education. I'm not a car person. I'm not a 'stuff' person. I'm a first-generation American, child of Holocaust survivors. I was really raised to own few things.
My first ever job: As a delivery boy for the Walper Stationery Company in Boston. I was 14 years old, and I would work after school and Saturdays with a two-wheeler, load it up with stationery.
My dream job: The one I have. I discovered interest in working on a college campus in the early '70s, and my wife was interviewing me as a potential spouse, trying to figure out where my career path would take me. We've been married 41 years. She said, 'Where is your interest in education/college life/working going to take us?' 'One day, maybe a vice president of student affairs, maybe in North Carolina.' I said that 43 years ago.
If someone wanted to start a conversation with me they should ask me about: Anything global. I didn't have a passport until I was 45. I've been making up for it ever since. In '09, I got a Fulbright grant (the University of Zagreb was looking for someone with an administrative background) and my wife and I moved to Zagreb, Croatia, for five and a half months. I've been back to Croatia five times ever since.
The best advice I ever received: I draw a lot from my parents' experience surviving World War II and the concentration camps, so it didn't take words. Probably my own personal inspirations come from watching people actually achieve, starting with a family that could survive that experience and thrive.
Something most people don't know about me: I was a student activist in the late '60s. I went to college in '68 (at the University of Massachusetts), shortly after Martin Luther King Jr. was assassinated, Robert Kennedy was assassinated, there was the acceleration of the Vietnam War … that was my freshman year. How could you not get involved? I showed up, and I just got totally sucked into the anti-war movement.
An interesting/memorable day at work for me: I have the privilege in this office, which I've only been in a year now, of seeing every Admissions tour group go by. I have a bird's eye on enthusiasm.
When I'm not at work, I like to: I took up golf a bunch of years ago. My wife and I play together. We can walk together and talk about the kids and grandkids, and we usually put music on, and Sunday mornings, we play golf and listen to Broadway show music and walk the golf course, singing.