Crime Prevention Goes Back to Nature
Duke Police partner with Facilities to trim bushes, create safer campus
When it comes to partnering with Duke community members to enhance campus safety, Duke Police are working to grow – and in some cases trim – relationships in a unique way, too.
In fall of 2013, officers began working with Duke's Facilities Management Department to alter some natural landscaping on campus in order to increase the number of well-lit spaces by buildings and dorms. Known as part of a "Crime Prevention Through Environmental Design" process, it's one factor that discourages criminal activity because it makes areas more difficult to hide in, said John Dailey, chief of Duke Police.
"While Duke is an extremely safe campus, we know it can look very different at 2 a.m. as opposed to middle of the day," Dailey said. "We've worked to understand the environmental concerns our community faces and continue to make changes to make our campus less desirable for criminals."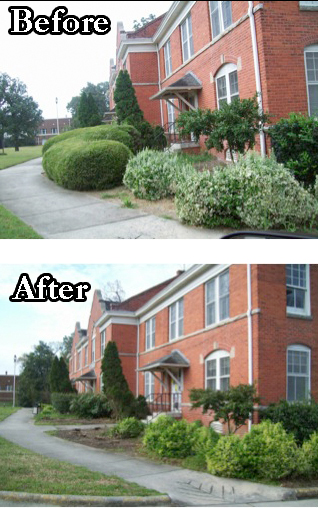 Trees and bushes outside Bivins Building were landscaped to make the space safer for pedestrians. Duke Police is partnering with Facilities Management to make similar changes across campus. Photo courtesy of Duke Police.
So far, adjustments to trees, bushes and ground cover have taken place by 16 buildings and dorms on East Campus with plans to continue work on West Campus. To begin the process at each location, Duke Police officers patrol an area to identify any problem spots and then meet with Facilities staff to design new landscaping plans.
In many cases, trimming trees or shrubs not only provided a chance to create a safer space for pedestrians, but was also an opportunity to update landscaping.
Surrounding Bassett and Pegram residence halls, aging holly bushes and upright junipers were replaced with dwarf abelia and ground cover juniper, which is more consistent with other plantings on campus. The difference in the two juniper heights greatly benefits campus safety as well, with a difference of about 3 feet when fully grown. That means the new shrubbery could not be used as a hiding spot.
Some magnolia trees, which have branches that grow to the ground, will also be pruned to offer easier sight lines for passersby.
"For us, it's about trying to increase the line of sight for people without doing any damage to the landscaping of campus," said Roger Conner, superintendent for Duke Grounds and a graduate of Duke Police's Citizens' Police Academy. "We look at all options, from pruning to replacement of a plant to improve lighting."
Changes to trees and bushes complement last year's project by Facilities Management to upgrade Duke's outdoor lighting system, which now uses LED lights. In addition to cutting costs and energy uses, campus lamps shine brighter with the new bulbs.
Facilities and Duke Police will continue to partner to update landscaping around buildings like Perkins Library and West Union. In the meantime, Hester said Duke Police will continue to seek out landscaping locations that can be adjusted for greater safety.
"We want our students, faculty and staff to feel comfortable on campus," said Eric Hester, crime prevention officer with Duke Police. "Whether it's an officer or any other community member, we'll be able to see better and create a greater sense of safety."
Shrubs and ground cover were adjusted (before picture, left) outside Bassett Residence Hall to provide for a greater sense of safety. Photo courtesy of Duke Police.