Duke in Pictures: Trying Out Special Patrol Vehicles
Employees test three-wheeled vehicle during Citizens' Police Academy
Above, Wanda Collins, director of Counseling and Psychological Services, steers a T3 patrol vehicle through an obstacle course as part of a hands-on activity during a recent class of the Citizens' Police Academy. The 10-week program, organized through the Duke University Police Department, provides faculty, staff and students the chance to better understand how Duke Police members perform their jobs.
"It looked like a blast, so I didn't want to wait," said Collins, who was the first of 18 class participants to ride the T3. "It felt a little more awkward than riding a motorcycle, but you don't have to balance quite the same way."
Before rolling out on the T3 vehicles, Duke community members learned about various safety programs and enhancements around campus from Duke Police staff David Williams, crime prevention manager, and Eric Hester, crime prevention officer. In the coming weeks, members of the class will take part in activities like active shooter role-play sessions and visit with local judges to learn about the judicial system.
On Monday night, however, the Academy's "students" cheered each other on as they rode the T3 and got pointers from Duke Police officers.
"Going around the curves of the course felt almost like skiing," said Tony Jenkins, a building maintenance staff specialist at the Fuqua School of Business, seen below. "It's all about moving your hips."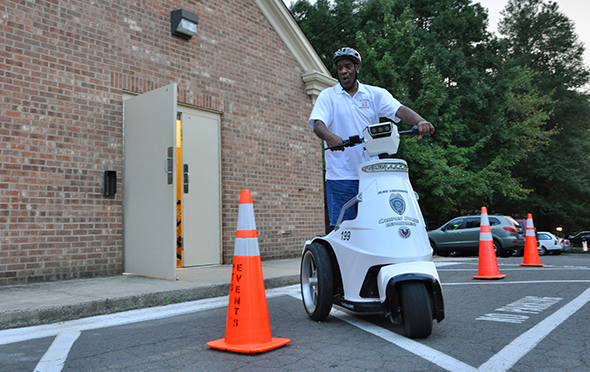 Here is the latest class of the Citizens' Police Academy:
Solanda Adkins, staff assistant, Duke Clinical Research Institute
Richard Biever, chief information security officer, Office of Information Technology
Lisa Bryant, administrative assistant, Facilities Management
Charlie Clausen, residence coordinator, Housing, Dining, and Residence Life
Wanda Collins, director, Counseling and Psychological Services
Casey Fisher, immunization compliance coordinator, Duke Student Health Center
Lois Gandee, building manager, Trinity College of Arts & Sciences
Leslie Grinage, assistant dean of students, Office of Student Conduct
Pamela Hansley, assistant facilities manager, Fuqua School of Business
Perry Hansley, senior general maintenance mechanic, Housing, Dining, and Residence Life
Tony Jenkins, staff specialist, Fuqua School of Business
Jeff Kulley, staff psychologist, Counseling and Psychological Services
John Michnowicz, associate dean and executive director of Office of Research Administration, School of Medicine
Ahmed Abdul Noor, student, class of 2017
Scott Plueddemann, events coordinator, Fuqua School of Business
Linda Suite, administrative specialist, Duke Health Technology Solutions
Kate Walker, assistant to the dean, Sanford School of Public Policy
Ben Weast, licensed professional counselor, Duke Cancer Patient Support Program