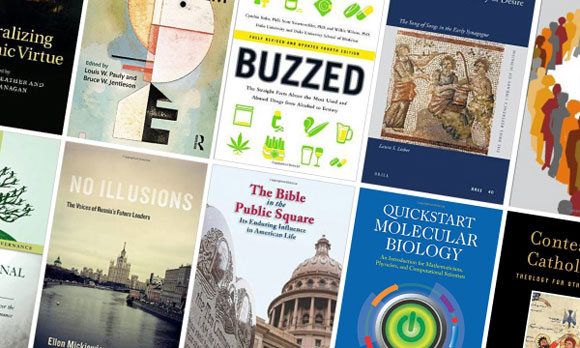 Spanning religious history and theology, electoral and global politics and the worldview of Russia's future leaders, Duke writers explore a wide array of topics in their latest books.
Read More
Many of the books, including new editions of previous titles, can be found on the "Duke Authors" display shelves near the circulation desk in Perkins Library. Some are available as e-books for quick download. Most can also be purchased through the Gothic Bookshop.
[Duke Today will provide similar updates in the future. If you are a member of the Duke faculty or staff who will be publishing a book of interest to a general audience, send us a message about it along with your publisher's brief description.]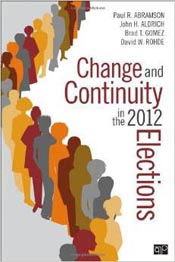 John Aldrich, David Rohde, co-authors:  "Change and Continuity in the 2012 Elections" (CQ Press)
Since its first edition in 1980, "Change and Continuity" has been known for offering keen analysis of voting behavior in the most recent elections while setting those results in the context of larger trends and patterns in elections studies. In this new edition, the political science professors look at the new campaign financing environment, changes to the frontloading of presidential primaries and the extent of President Obama's margin of victory.
Philip Benfey: "Quickstart Molecular Biology: An Introductory Course for Mathematicians, Physicists, and Engineers" (Cold Spring Harbor Laboratory Press)
Benfey, director of the Duke Center for Systems Biology in the Institute for Genome Sciences & Policy, describes basic concepts of molecular biology in the context of recent technological advances, such as next-generation sequencing.
James Boyle and Jennifer Jenkins: "Intellectual Property: Law & the Information Society -- Cases and Materials" (CreateSpace Independent Publishing Platform)
Two faculty in Duke's Center for the Study of the Public Domain have written the first in a series of Duke Open Coursebooks, which will be available for free download under a Creative Commons license. It can also be purchased in a glossy paperback print edition. The new edition includes discussions of such issues as the Redskins' trademark cancellation, the Google Books debate and the America Invents Act's changes to patent law.
Boing Boing, the tech and culture blog, praised the download as the "superior alternative" to the $160 textbook, enlivened with illustrations (including comics in the vein of copyright scholars Boyle and Jenkins' "Bound By Law").
Caroline Bruzelius: "Preaching, Building and Burying: Friars in the Medieval City" (Yale University Press)
Bruzelius, the A. M. Cogan Professor of History of Art, analyzes the friars' influence on the growth and transformation of medieval buildings and urban spaces as they took religion to laymen.
Cathy Clark, co-author: "The Impact Investor: Lessons in Leadership and Strategy for Collaborative Capitalism" (Jossey-Bass, Oct. 13)
Clark and her co-authors discuss the parameters of impact investing, which uses investment for social profit as well as financial. Clark is the lead faculty member at the Center for the Advancement of Social Entrepreneurship (CASE) at Duke's Fuqua School of Business, where she has taught since 2007.
In a Huffington Post commentary, Clark and a co-author cite "a roadmap for taking impact investing to the next level."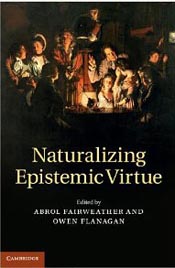 Owen Flanagan, co-editor: "Naturalizing Epistemic Virtue" (Cambridge University Press)
An epistemic virtue is a personal quality conducive to the discovery of truth, the avoidance of error, or some other intellectually valuable goal. Current work in epistemology is increasingly value-driven, but this volume explores whether virtue epistemology can also be naturalistic. Owen Flanagan is James B. Duke Professor of Philosophy.
Curtis Freeman: "Contesting Catholicity: Theology for Other Baptists" (Baylor University Press)
Divinity School professor Curtis Freeman urges his fellow Baptists to move beyond sectarianism toward "the unity for which the Lord Jesus prayed and which the church must seek." Freeman is the director of the Baptist House of Studies at Duke. In his book, Freeman reviews four centuries of Baptist history and offers an alternative Baptist identity, a "catholic Baptist" who is fully participant in the historic church and at the very same time is fully Baptist. (Divinity School News)
Freeman says the earliest Baptists did not set out to be "fanatical sectarians who rejected the wider Christian community and withdrew from the world." (Associated Baptist Press)
Shai Ginsburg: "Rhetoric and Nation: The Formation of Hebrew National Culture, 1880-1990" (Syracuse University Press)
Ginsburg, assistant professor of Asian and Middle Eastern studies, challenges the common conflation of modern Hebrew rhetoric and modern Jewish nationalism through readings of key canonical texts.
Bruce Jentleson, co-editor: "Power in a Complex Global System" (Routledge)
Addressing key issues such as European Union enlargement, U.S. alliances, the rise of China and East Asian regionalism, this book, co-edited by Sanford School professor Bruce Jentleson, maps the complex terrain upon which legitimate political authority and effective policy capacity will have to be reconstituted to address 21st century global, regional and state-level challenges.
Tana Johnson: "Organizational Progeny: Why Governments Are Losing Control over the Proliferating Structures of Global Governance" (Oxford University Press)
Johnson, assistant professor of public policy and political science, sheds light on an important and under-studied dimension of globalization.
Vasant Kaiwar, author: "The Postcolonial Orient: The Politics of Difference and the Project of Provincializing Europe" (Brill Academic Publishers)
Kaiwar, a visiting associate professor of history, analyzes the formation of postcolonial studies.
Dr. Sujay Kansagra: "My Child Won't Sleep: A Quick Guide for the Sleep-Deprived Parent" (Amazon Digital Services, Inc.)
Does your infant, child or adolescent have difficulty sleeping at night? Kansagra, the director of the Duke Pediatric Neurology Sleep Medicine Program, helps parents identify the problem and find a solution. But instead of just offering one solution to the common sleep problems, this book offers a variety of scientifically proven techniques that are safe and effective, that parents can fit to their family.
Dr. Harold Koenig, co-author: "Health and Well-Being in Islamic Societies: Background, Research and Applications" (Springer)
Koenig, director of the Center for Spirituality, Theology and Health and a professor of psychiatry & behavioral sciences, writes on relationships between Muslim beliefs and physical, psychological and social health, offering applications for clinical practice. "Cultural awareness is critical to improving both individual client health and public health on a global scale," the book asserts.
Cynthia Kuhn, Scott Swartzwelder, Wilkie Wilson, co-authors: "Buzzed: The Straight Facts about the Most Used and Abused Drugs from Alcohol to Ecstasy," Fully Revised and Updated Fourth Edition (W. W. Norton & Company)
The authors, all professors, have revised and updated their bestseller with the most recent discoveries about drugs, including trends from synthetic cannabinoids to e-cigarettes. Just perusing the table of contents "is a sharp reminder of the huge role drugs play in American culture," according to The Washington Post. Neither a "just say no" treatise nor a "how-to" manual, "Buzzed" is based on the conviction that people make better decisions with accurate information in hand.
Kun-Shan (Carolyn) Lee, co-author: "The Routledge Advanced Chinese Multimedia Course: Crossing Cultural Boundaries" Second Edition (Routledge)
Lee, director of Duke's Chinese Language Program, and a team of experienced instructors offer advanced learners the opportunity to consolidate their knowledge of Chinese through activities designed to build up language skills and cultural literacy. A free companion website offers a wealth of video content forming the basis of many of the listening activities in the book.
Laura Lieber: "A Vocabulary of Desire: The Song of Songs in the Early Synagogue" (Brill)
Lieber, associate professor of religious studies, explains how the "Song of Songs" was understood and deployed by Jewish liturgical poets in Late Antiquity.
David Marshall, co-editor: "Death, Resurrection, and Human Destiny: Christian and Muslim Perspectives" (Georgetown University Press)
Marshall, associate professor of the practice of Christian-Muslim relations at Duke Divinity School, explores the views of Christian and Muslim theologians on the themes of death, resurrection and human destiny. The book is a record of the 2012 Building Bridges seminar for leading Christian and Muslim scholars convened by Rowan Williams shortly before his retirement as the Archbishop of Canterbury. Joining Duke Divinity School in 2013, Marshall teaches courses on Islam and Christian-Muslim relations, and is also director of the Anglican Episcopal House of Studies. (Divinity School News)
Carol Meyers, Eric Meyers, co-editors: "The Bible in the Public Square: Its Enduring Influence in American Life" (SBL Press)
Religion professor Carol Meyers and Center for Jewish Studies Director Eric Meyers, together with Duke alumnus Mark Chancey (Ph.D. '99), have edited this collection of 10 essays arising from a 2012 conference at Duke on how the Bible is used -- and misused -- in political campaigns, school curricula, foreign policy and popular culture.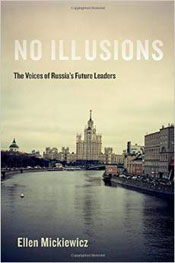 Ellen Mickiewicz: "No Illusions: The Voices of Russia's Future Leaders" (Oxford University Press)
Mickiewicz, an emeritus professor of public policy and political science, looks at the next generation of leaders in Russian politics, business and economics. Mickiewicz, an expert on Russian media, shows how their immersion in the world of the Internet frames the way that they think and affects their trust in their leaders, the media and their colleagues. These emerging leaders hold a rather different worldview from the current leadership, yet it is not a worldview that readily embraces American democracy, the book shows.
Emerson Niou, co-author: "Bean Voting: The Politics of Secret Ballot" (Renmin University Press) and "An Introduction to Community Compacts in China" (Chinese Society Press)
Writing in Chinese, Niou, a professor of political science, explores the history and politics of the secret ballot, from its introduction in ancient Greece, with a focus on a unique Chinese variation, called bean voting, practiced in areas controlled by the Chinese Communist Party during the Sino-Japanese War and Chinese Civil War. "Community Compacts in China" shows the widespread use of a set of well-integrated local self-governance institutions in China, including moral codes, community granaries, education and security, Niou has compiled and annotated 12 notable community compacts practiced in China since the Northern Song Dynasty.
Martin Ruef: "Between Slavery and Capitalism: The Legacy of Emancipation in the American South" (Princeton University Press)
At the center of the upheavals brought by emancipation in the American South was the economic and social transition from slavery to modern capitalism. Sociology professor Martin Ruef examines how this institutional change affected individuals, organizations and communities in the late 19th century, as blacks and whites alike learned to navigate the shoals between two different economic worlds.
Stephanie Sieburth: "Survival Songs: Conchita Piquer's Coplas and Franco's Regime of Terror" (University of Toronto Press)
How can a song help the hungry and persecuted to survive? In "Survival Songs," Romance studies professor Stephanie Sieburth explores how a genre of Spanish popular music, the copla, as sung by legendary performer Conchita Piquer, helped Republican sympathizers to survive the Franco regime's dehumanizing treatment following the Spanish Civil War, years known as the "time of silence."
Walter Sinnott-Armstrong, co-author: "Understanding Arguments: An Introduction to Informal Logic," Ninth Edition (Wadsworth Cengage Learning)
Sinnott-Armstrong, professor of practical ethics in the Department of Philosophy and the Kenan Institute for Ethics, shows readers how to construct arguments in everyday life, using everyday language.
Daniel Vallero: "Fundamentals of Air Pollution" Fifth Edition (Elsevier)
Vallero, director of the Program in Science, Technology & Human Values, shows that air pollution has been recognized as a complex societal problem for centuries. For example, in the 14th century, King Edward II decreed that the cause of London's air pollution problem was attributed to burning coal, and instructed that  anyone found burning coal while Parliament was meeting would be executed.
Grant Wacker: "America's Pastor: Billy Graham and the Shaping of a Nation" (Belknap Press, Sept. 29)
Wacker, professor of Christian history at Duke Divinity School, studies why the North Carolina evangelist mattered so much to so many. The book offers a textured portrait of Graham as "a self-deprecating servant of God and self-promoting media mogul, a simple family man and confidant of presidents, a plainspoken preacher and the 'Protestant pope.'"
In this Q-and-A with Stony Brook University history professor John Fea, Wacker says his book argues that "Graham's success is at least partly attributable to his extraordinary ability to appropriate trends in the culture and then apply them to his purposes of personal evangelism and moral reform of the nation (and world)."
Vivek Wadhwa, co-author: "Innovating Women: The Changing Face of Technology" (Diversion Books)
Wadhwa and Journalist Farai Chideya set out to collect anecdotes and essays from hundreds of women who are global leaders in STEM fields, including Google[X] Vice President Megan Smith, venture capitalist Heidi Roizen and Patriarch Partners CEO Lynn Tilton. Wadhwa, director of research at the Pratt School's Center for Entrepreneurship and Research Commercialization, believes the future of technology depends on the participation of women and men working together.
Laceye Warner: "The Method of Our Mission: United Methodist Polity and Organization" (Abingdon Press)
Warner, associate professor of the practice of evangelism and Methodist Studies, provides an introduction to United Methodist polity as well as the denomination's governance described in its Book of Discipline.
E. Roy Weintraub, co-author: "Finding Equilibrium: Arrow, Debreu, McKenzie and the Problem of Scientific Credit" (Princeton University Press)
Telling the story behind the proof of the central theorem in economics, economics professor Weintraub and his co-author consider the changing nature of the scientific community and the connections between the personal and public rewards of scientific work. While Kenneth Arrow and Gerard Debreu would later go on to win separate Nobel prizes in economics, Lionel McKenzie would never receive it. "Finding Equilibrium" explores the lives and work of these economists and the issues of scientific credit against the backdrop of overlapping research communities and an economics discipline that was shifting dramatically to mathematical modes of expression.