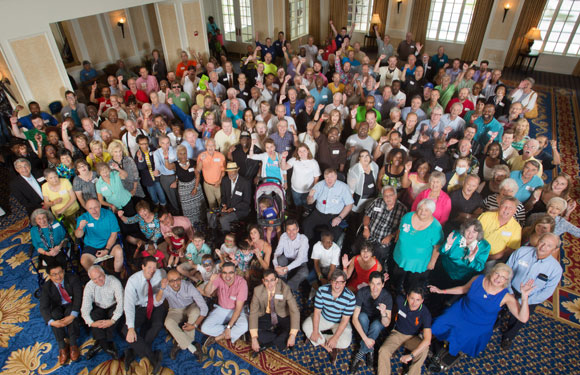 A reunion of heart transplant patients at Duke may have set a new Guinness Book of World Records for most heart transplant patients in one location. The event drew 201 heart transplant recipients who had undergone the procedure in past 29 years. The reunion was held in celebration of passing the 1000th heart transplant at Duke University Hospital – a milestone very few centers in the world have marked. 
Below, Katina Rogers, Duke cardiologist Dr. Joe Rogers, DUHS President Kevin Sowers enjoy a discussion with heart transplant patient Kathy Watson (far right) and her son James during the ceremony.
For more on the story from WTVD-11, click here.
Photos by Jared Lazarus/Duke University Photography