Duke in Pictures: Campus Community Joins National Night Out
Duke Police host crime prevention event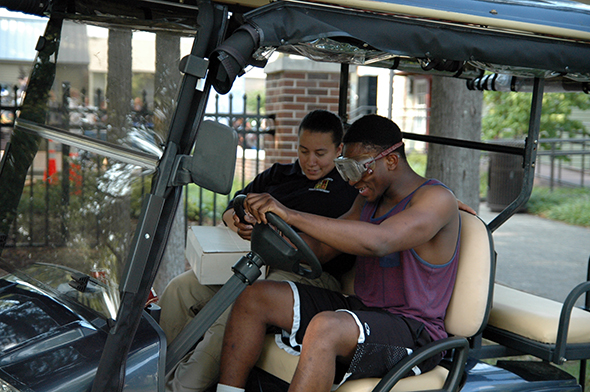 Nearly 200 students, faculty, staff and family members came together Aug. 5 as part of Duke Police's annual National Night Out event to raise awareness about crime prevention.
Above, officer Tiffany Lyons instructs a Duke student about the hazards of drunk driving as he tries to steer a golf cart while wearing "beer goggles" that simulate driving impaired. Other activities included a roving clown, safety quizzes and tours of emergency response vehicles from Duke Life Flight and the Durham Fire Department.
The gathering at Mill Village on Central Campus was part of efforts across Durham and cities throughout the country to connect police departments and the people they serve. Officers from Duke Police chatted with visitors and offered a variety of safety tips and information, along with Duke departments like IT Security, Student Wellness and the Occupational and Environmental Safety Office.
"It was a relaxed atmosphere and a great chance to connect with everyone who stopped by," said Eric Hester, a crime prevention officer with Duke Police. "We make it a priority to build relationships with students and employees because that's how we can create a safer campus."
Below, Karen Goddard, manager of claims and administration with Corporate Risk Management, quizzes students about safety information. Along with Goddard, 11 fellow alumni of the Citizens' Police Academy joined the National Night Out event to meet with Duke community members and share their experiences with campus safety.