DKU Chancellor Liu Jingnan tries on his university robes at the office in Kunshan last week during preparation for the campus opening.
Read More
Representatives of Duke's Office of DKU and China Initiatives, as well as two Duke undergraduates, are in Kunshan assisting the Duke Kunshan University (DKU) team as they prepare to welcome the university's first class of students this week.
"After many years of hard work and waiting, having our wonderful students arrive makes it all worth it," said Lingling Wang, DKU's assistant registrar and enrollment manager. "
DKU student orientation begins Wednesday, Aug. 20, with a formal convocation ceremony at the Kunshan Culture and Art Center. The ceremony will include an address by Duke's William Johnson, professor of classical studies, who is teaching an undergraduate course on Classical Greek civilization at DKU this semester.
Classes begin Aug. 25 for students in the Master of Science in Medical Physics, Master of Science in Global Health and Undergraduate Global Learning Semester programs. Students in the Master of Management Studies program began their coursework in Durham in July and will arrive in Kunshan in January.
"The office here is bustling with great energy as the final pieces are coming together, " said Taylor Laub, a Duke University senior and co-chair of Duke's Kunshan Student Advisory Council. Laub and Duke student Nick Balkissoon completed internships in Kunshan during the summer of 2013.  "Nick and I are so excited to be back in Kunshan and to help wherever we can to make the first semester at DKU a success!"
Laub and Balkissoon have posted news and photos about the preparation on a Duke in Kunshan blog: http://sites.duke.edu/dkublogs/2014/08/14/10-days-and-counting/
Below: Nick Balkissoon and Taylor Laub in the DKU office last week started the countdown to the opening of classes.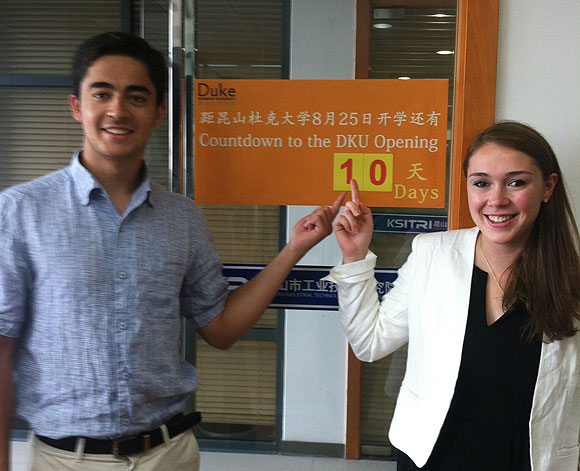 Click here to read a story in the Raleigh News & Observer about the opening.