Southside's First Resident
Employee David Steinbrenner MDiv'08 utilizes Duke loan for revitalized Durham neighborhood
When Duke Office of Postdoctoral Services staff assistant David Steinbrenner received the keys to his new Durham home, the first thing he did was unpack his theology books and big band records and line them up neatly in his new bookcases.
He stood in the middle of his living room, still empty and echoing, void of furniture, and let it sink in that the four-bedroom bungalow was now his.
Read More
This is the first home Steinbrenner has owned, and he's the first person to move into the revitalized Southside neighborhood, just a few blocks from American Tobacco Campus and the Durham Bulls ballpark. The city project, which has been years in the making, is turning dilapidated and vacant properties into single-family homes and apartments by offering financial help for lower-income individuals looking to buy.
Duke is a partner in the revitalization efforts - the university is offering a $10,000 forgivable loan and other assistance to employees interested in a Southside home, on top of loans and incentives made available through the city. The employee must have worked continuously at Duke for at least five years and meet certain income requirements.
"Duke's been really good to me," said Steinbrenner, who's also a Duke Divinity School graduate. "I love the education I got there. I love the people there. I had a job through the whole recession, and I know some friends who didn't. It was just kind of cool then to see, wow, Duke is willing to help somebody like me get into a home."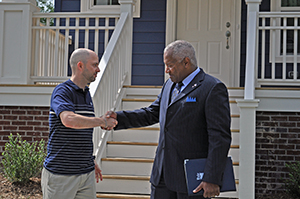 Duke staff assistant David Steinbrenner, left, shakes the hand of Phail Wynn Jr., Duke's vice president for Durham and Regional Affairs, after the ribbon cutting in front of Steinbrenner's new home in the revitalized Southside neighborhood. Photo by April Dudash
On Friday, Durham Mayor Bill Bell, along with other local and state politicians, and Phail Wynn Jr., Duke vice president for Durham and Regional Affairs, joined in a ribbon cutting in Steinbrenner's driveway. Dozens of supporters from Durham also attended the ceremony.
The university's Office of Durham and Regional Affairs serves as the liaison between Duke and the city of Durham and helps qualified Duke employees navigate the application and loan process. Wynn said his office has formed a Duke Homebuyer Club to help employees repair their credit, identify savings strategies and learn budgeting tips. Sixteen Duke employees will be eligible, through attending Homebuyer Club classes, to apply for first mortgage loans by the end of the year. The office also is working with Self-Help, a nonprofit credit union based downtown, to provide the loans.
"I'm so pleased to see this redevelopment, revitalization of a historic neighborhood, and I'm very pleased that we have our first Duke employee in a Duke blue home on a corner lot," added Wynn, after Mayor Bell cut the ribbon. "It's just another example of Duke's close partnership with the city of Durham, with Self-Help, and our efforts to help make Durham a wonderful place to live."
Dozens of people attended the ribbon cutting Friday, which celebrated a new era for the Southside neighborhood. People commented that Duke staff assistant David Steinbrenner's new house looked Duke blue. Photo by April Dudash
If the light hits the siding of Steinbrenner's house just right, the paint takes on a Blue Devil shade. He had the opportunity to pick the color, as well as the light yellow interior and dark hardwood floors.
When he looks around the living room, he said he thinks about how he can now host his friends and cook for them in his new kitchen. They're planning to hold a house blessing and house warming party in the coming weeks.
"I'm just trying to get my mind around the fact that this beautiful, brand-new home is mine. I don't think that's something that's sunk in yet," he said. "The fact that the city and Duke offer this is an expression of the community itself and of the community saying, 'We care about our own.'"