A zealous crowd of army veterans and volunteers cheered on former US Air Force master sergeant Kim Bradshaw as she benchpressed 130 pounds. After she fully extended the weight and completed the lift, Bradshaw came away with more applause, a smile on her face and a silver medal in the second annual Southeast Valor Games.
A Newport, Va., resident who served in the army from 1987-2007, Bradshaw won two gold medals last year in powerlifting, but she said she was still pleased with her finish this year.
 "I needed a silver to add to my collection of golds anyways," said Bradshaw.
The Valor Games is a three-day Paralympic competition involving more than 100 disabled, injured, wounded or ill veterans and service members in events such as volleyball, air rifle, boccia, indoor rowing, archery and powerlifting.
The three-day tournament started Tuesday in Chapel Hill before moving Wednesday to Cameron Indoor Stadium and the Murray Building at Duke for competition in lifting, rowing, table tennis and archery. The games conclude Thursday in Cary.
The event is both a tribute to the men and women who have served in the US military and a way of giving them an opportunity to experience the thrill of competition with their military brethren.
"When Coach K [Duke men's basketball coach Mike Krzyzewski] greeted them this morning, it was very quiet," said Ashley Thomas, founder and executive director of Bridge II Sports, which is the official host of the southeast region for the games. "We wanted it to be authentic so we didn't have media here, and you could enjoy that intimate time and it's real with the athletes. It's because people care."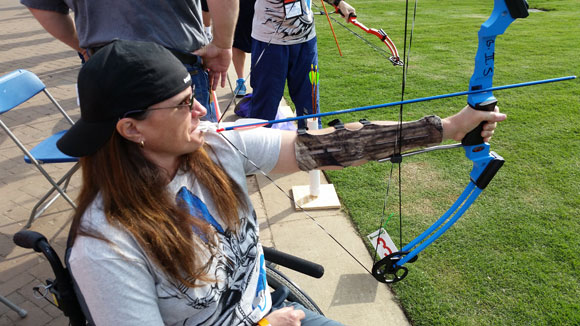 Out on the grassy field of Krzyzewskiville was former army Sergeant E5 Pam Kelly, (pictured above) who served as the first response combat medic in her unit from 1989 to 2006.
"I would've never got out of the army if I didn't get injured. I probably would've done like 30, 40 years," said Kelly.
After an accident in 2006 that crushed her spine, head and tore both her shoulders, Kelly became a partial quadriplegic with her only mobility in the left arm.
"Still to this day [it's] very depressing because I can't do my job anymore. I'm still not used to the civilian world. I miss the military a lot," Kelly said.
After a rough recovery, Kelly found solace in sports competition and has participated in five triathlons since January using just her left arm to swim and hand cycle for both the cycling and running events. 
"It gets me back out with other wounded warriors and gets me back in the teamwork and keeps me active and just keeps my spirits up. Otherwise I'd stay cooped up with my doors and windows shut," Kelly said.
Below: Valor Games athletes compete in rowing Wednesday in Cameron Indoor Stadium. Photo by Les Todd/Duke University Photography