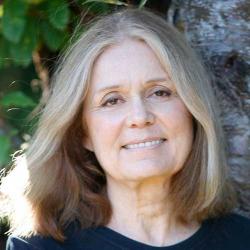 Feminist, journalist and political activist Gloria Steinem will speak at Duke Chapel at 7:30 p.m. Tuesday, April 15.
UPDATE: The event is sold out but will be live streamed on the Duke Chapel website.  For those attending, parking is available in the Bryan Center parking garage.
Steinem was invited to speak in honor of the 10th anniversary of the Baldwin Scholars Program. The program was created to help undergraduate women become confident leaders in the Duke community and beyond.
Steinem co-founded the feminist-themed Ms. Magazine in 1972 after realizing there was no publication for women that was managed by women. The magazine was sold in 2001 to the Feminist Majority Foundation and Steinem remains on the masthead and serves on the advisory board. She has testified before Congress in favor of the Equal Rights Amendment and during her career co-founded numerous organizations advocating for women's rights. Her books include the bestsellers "Revolution From Within: A Book of Self-Esteem," "Outrageous Acts and Everyday Rebellions" and "Marilyn: Norma Jean" on the life of Marilyn Monroe.
In 1993 she was inducted into the National Women's Hall of Fame and she received a lifetime achievement award from Parenting magazine for her work promoting girls' self-esteem. In 2013 Steinem earned the Presidential Medal of Freedom and in her acceptance speech said, "The best thing I can do for young women, I think, is to listen to them, because you don't know you have something to say until somebody listens to you."
Last year the Baldwin Scholars invited Sarah Weddington, the attorney who, at age 26, successfully argued the landmark Supreme Court case Roe v. Wade.
The event is sponsored by the Baldwin Scholars Program, the Muglia Family, the Program in Women's Studies, the Duke Women's Center and Omega Phi Beta Sorority, Inc.