Mom, Daughter Among 'Police Academy' Graduates
Duke Police crime prevention program concludes latest session
Tina Piccirilli rides a "T3" vehicle during a class with the Citizens' Police Academy. Photo courtesy of Duke Police.
While 15 Duke staff graduated last week as the third class of Duke Police's Citizens' Police Academy, the event was a special event for two participants.
It was the first time the academy graduated family members as mother-daughter duo Brenda Comer and Tina Piccirilli finished the educational program that takes Duke employees behind the scenes of what it's like to be a Duke Police officer. Both heard about the class from former participants and jumped at the opportunity to participate, at first unbeknownst to each other.
"Tina emailed me about the class and said she was taking it and I had just talked to someone about it and decided to sign up," said Comer, Piccirilli's mother and an administrative specialist in the Department of Pharmacy. "It"s been fun to learn together about what Duke Police does and how they serve Duke."
Led and taught by the Duke University Police Department, participants in the Academy spent two months learning more about the law enforcement process. Participants gathered after work in the classroom and with hands-on drills to better understand how Duke Police members perform their jobs, from crime scene investigations to learning details about the judicial system and crime prevention tips.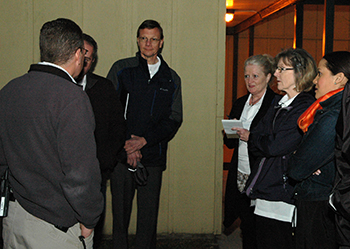 Brenda Comer, middle with notepad, takes notes during a mock crime scene investigation. She graduated from the Citizens' Police Academy last week. Photo courtesy of Duke Police.
Comer and Piccirilli, administrative manager at the Duke Cancer Center, said they were also happy the Academy gave them the opportunity to spend time together.
"She's very much a jokester, so I had to make sure I didn't look her way during activities and lose it," Piccirilli said of her mom. "But we're close and enjoy doing things together, so it was nice to have another thing to share."
The next class of the Citizens' Police Academy is scheduled to begin in September. Interested Duke community members can contact crime prevention officer Eric Hester via email at eric.hester@duke.edu for more information and how to sign up.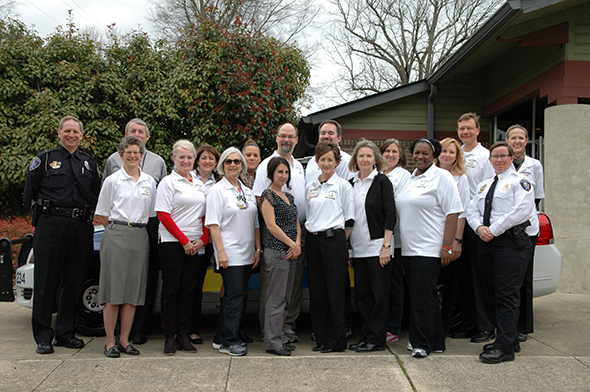 The graduates of this session of the Citizens' Police Academy are:
Ann Bradley, associate university counsel, Office of University Counsel
Brenda Comer, administrative specialist, Department of Pharmacy
Roger Conner, superintendent, Grounds & Sanitation Services
Don Elsner, principal auditor IT, Office of Internal Audit
William English, administrative fellow, Duke Hospital
John Hillson, clinical nurse, Radiology Oncology
Clevonne Jacobs, associate university counsel, Office of University Counsel
Shawn Johnson, senior lab assistant, Duke Human Vaccine Institute
Katie Rose Levin, natural resource manager, Grounds
Clarybel Peguero, director, Fraternity and Sorority Life
Tina Piccirilli, administrative manager, Duke Cancer Center
Jacqueline Richie, area medication inspector, Medical Center
Colleen Tjalma, director of facilities, Fuqua School of Business
Jill Tomlinson, associate dean of finance and administration, Fuqua School of Business
Shelby Tyson, paralegal, Office of Counsel
D'Anne Wrenn, administrative assistant to the pharmacy director, Pharmacy Administration