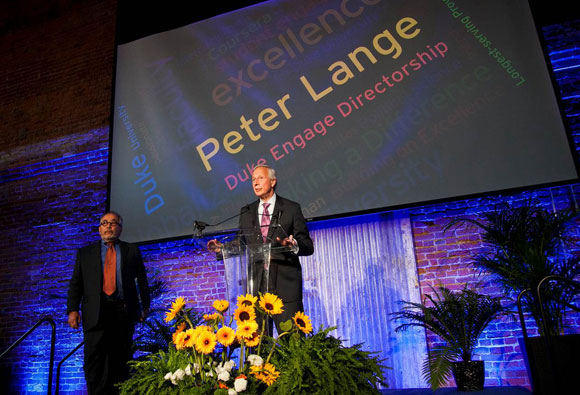 Caption: President Richard Brodhead pays tribute to retiring Provost Peter Lange at a reception Thursday afternoon. Photos by Megan Morr/Duke University Photography.
Testimonials came heartfelt and filled with laughter Thursday as more than 400 members of the Duke community celebrated the work of retiring Duke Provost Peter Lange at a reception at the American Tobacco Campus.
Lange is leaving the office this summer after 15 years, making him the longest-serving provost in Duke history. Cell Biologist Sally Kornbluth will succeed Lange on July 1.
President Richard Brodhead praised Lange's continuous energy and said their regular conversations were often the highlight of his day. President Emerita Nan Keohane returned to also pay honor, calling her selection of Lange as provost one of the best decisions she made. Executive Vice President Tallman Trask thanked Lange for making the past 15 years "the best years of my professional life."  Representing the deans, Duke Law's David Levi humorously explored Lange's interest in European politics, invoking Louis XIV, Dante and Antoine de Saint-Exupery among others. And Michael Gillespie shared humorous remarks on behalf of the political science department and larger faculty before presenting Lange with a personalized garden gnome.
Lange said he had fun in a job he always found stimulating and rewarding. He thanked the Duke community for working with him on a range of programs and initiatives and for expanding the resources for Duke's academic enterprise.
During the event, Vice President Ben Reese presented Lange with an honorary Samuel DuBois Cook Award to recognize the provost for the work he has done to promote diversity and equity at Duke and in the community.
President Brodhead also announced an anonymous $4 million gift that will endow the directorship of DukeEngage and name it after Lange.  The program, developed under Lange's leadership, provides full funding for select Duke undergraduates to do a summer of service and learning in partnership with a U.S. or international community organization.
Below: President Emerita Nannerl Keohane and John Piva, former senior vice president for alumni affairs and development, greet Lange at the reception.