Adopt-a-Book Breathes Life into Old Pages
Community members donate to Duke Libraries and pick books for conservation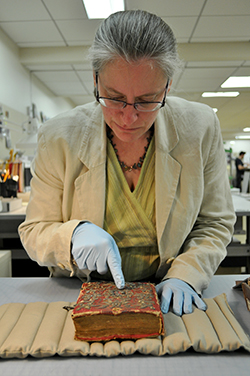 In a back room of the Rubenstein Rare Book and Manuscript Library, Beth Doyle flipped open a double elephant folio as large as the tabletop, removed sheets of tissue paper between the pages and revealed intricate illustrations of North American birds.
Read More
Pausing on a life-size drawing of a wild turkey, Doyle pointed out the small tears in the first volume of the John James Audubon set, as well as scuffing on the cover and worn corners.
"This is very typical of these large volumes because they weigh so much, and they're always heavily used because they're beautiful," said Doyle, the head of the Conservation Services Department for Duke Libraries and the Leona B. Carpenter senior conservator.
Doyle and a team of staff members launched a new Adopt-a-Book Program this spring, in which Duke community members and the public can donate money to Duke Libraries and adopt a book that's in need of repair or better protection from the elements.
The donations will go directly to Duke's Conservation Lab, which treats books, manuscripts, photographs and archival materials from libraries across campus. Last fiscal year alone, the conservators made nearly 4,200 book repairs and 638 flat paper repairs.
The Adopt-a-Book website lists about 10 to 15 titles that will be rotated as they're adopted. Current choices range from a 1940 illustrated set of John Steinbeck's "The Grapes of Wrath," up for adoption for $150, to the four Audubon "Birds of America" volumes, priced at $25,000 per volume for their size and the complex treatment they need.
"The items that we have up for adoption really are in need of conservation," Doyle said. "If you adopt an item, it's going to be treated."
Individuals who adopt will have their name placed on an electronic bookplate in the item's catalog record. The money will then go toward supplies and equipment for the lab, which can be book presses and band nippers to surgical scalpels and microscopes. Doyle describes their lab as the intersection of old-world craft and new science and research.
The donations also will go toward specialized training for the conservation staff, who will go through photograph conservation training in October, thanks to a large donation from an anonymous alum.
"Donors to this program don't want to see the book go away," said Kurt Cumiskey, assistant director of development for Duke Libraries, "and they want to see that the old, valuable, uncommon books are preserved and taken care of."
Duke's Adopt-a-Book Program was partially modeled after the British Library's adoption program. Eventually, Doyle said Duke staff would like to add an online gifting option and partial adoptions, where a group of people can band together to pay for the conservation of one book.
"I hope it has great potential to support what we do," she said. "Already, with this one large anonymous gift, that training that we'll be able to do will fundamentally change what we're able to do for the library. The staff in the lab are mostly book and paper conservators, but we have so many photographs in our collection and conservation is a profession of specialties."
This year, Doyle adopted a Greek manuscript, published in the 17th century and filled with handwritten religious texts, in her mother's name.
At her Conservation Lab workspace, which is surrounded by a wall of postcards and inspirational sayings, Doyle placed the Greek manuscript on a fabric pillow, handling the text with blue gloves. The fraying pages and floral embroidered cover are in need of a custom, protective enclosure.
Doyle adopted this particular item because its binding is made of delicate metal and silk threads, and her mother is a master embroiderer who specializes in such threads.
"The Adopt-a-Book Program is something I've wanted to do for a long time, but now is the right time because we have the staffing resources and the lab, which is beautifully equipped," Doyle said.