People, Places and Funds: Brodhead on Duke's Future
In speech to faculty, Brodhead notes changing leadership and ambitious plans
Friends: For the past several years, some single issue has been so important to this community that I have made it the sole subject of my Faculty Address. One year, I spoke of Duke's strategy for coping with the economic downturn. Another year, my subject was Duke's approach to international engagements. As we began to celebrate the 50th anniversary of the enrollment of the first black undergraduates, I addressed the history of Duke and race. Last year, I talked about college costs and the value of liberal arts education.
This year, no single subject clamors for attention to the same degree. So with your permission, I thought I would share some thoughts on three issues. I remember learning in grade school that nouns were the names for people, places and things. In hopes of securing your attention through to the end, I propose that my topics today will be People, Places and Funds.
First, people. This spring I am completing my 10th year as president of Duke. It is a notable fact that for this entire decade, I have worked with the same executive leadership team. Victor Dzau, chancellor of health affairs, was hired a few months after me and started work on the same day.   Peter Lange, the only provost I've known at Duke, had already been in office five years when I arrived. Tallman Trask, my only executive vice president, had come to Duke earlier yet, in 1995.
These have been good years for Duke, and while I know that administrators have not been the sole cause, the stability and experience of this leadership team has certainly contributed to Duke's success. But nothing lasts forever, and this year, we knew, things would begin to change. Since the time when he accepted a third term as provost, Peter Lange and I had looked to this, his 15th year, as the time when he would step down. Peter has been here for so much of the modern history of Duke and has put his energetic mark on so many aspects that it would scarcely be too much to say of him, as the epitaph of the architect Sir Christopher Wren says in Saint Paul's Cathedral:  "If you seek his monument, look around you." So deep has his impact been that we've all had moments of asking, how could Duke be expected to survive without him?
But it's the mark of healthy institutions that they're built to withstand leadership transitions, and the great question mark we all faced at the start of this year has been answered in a reassuring way. As you will recall, after consultation with ECAC, I named a search committee last August. At Josh Socolar's wise suggestion, the committee and its chair, George Truskey, spent an hour this September meeting with the Academic Council and listening to your hopes and fears. On this basis, an excellent document was drawn up articulating what Duke needed in its next provost. An outstanding pool of talent found this job attractive and entered the field as candidates. We tested the candidates against the institution's needs, and at the end, the choice was surprisingly easy.
Many of you know Sally Kornbluth, the James B. Duke Professor of Pharmacology and Cancer Biology, but since she is here for the first time in her new capacity as provost-elect, I hope you'll allow me to say what the search found so compelling. Sally is a scholar's scholar who has been widely honored for her research, including by election to the Institute of Medicine. She has also been a devoted mentor, seeing twenty-five Ph.D. students through to completion of their degrees. As vice dean for basic science in the School of Medicine, she has helped build a shared infrastructure for biomedical research first for the basic sciences, then also for the clinical departments. As she has taken on wider and wider responsibilities, she has won high marks for her "people skills," specifically her skill at listening to people articulate their needs and the creative problem-solving skills with which she then welds people's separate ideas into something none of them quite suggested that ends up benefiting them all. Add to her imaginativeness and problem-solving gifts that she has an immense love of this institution and total dedication to its values, and it's clear that Duke will thrive with Sally Kornbluth as our new Chief Academic Officer. Sally, I thank you for your willingness to serve.
As I say, it had been long foreseen that this would be the year for a provostial transition. Though we knew that we would face a change in the health system before long, I did not foresee that that change too would arrive this year, but with the announcement that Victor Dzau will be the new president of the Institute of Medicine, Duke now faces another issue of leadership succession. Victor has presided over extraordinary successes in Duke Medicine and has emerged as a leading voice regionally, nationally and internationally, advocating new solutions for health care challenges. For a Dukie to be chosen to head the IOM is a well-deserved honor for Victor and an honor for us all, and I offer him our thanks and congratulations.
But as with the provost's, the prospect of a vacancy in this key position can be a little anxiety-inducing, since it reminds us just how broad and rare the skills are that will be required in a successor. The Chancellor for Health Affairs needs to be adept at understanding the business of health care and completely in tune with the research aspirations of a world-class academic medical center, and he or she needs to understand how these potentially rival commitments can be made to serve and support each other as complementary elements. In addition, like the provost, the chancellor has to be deeply devoted to the existing world of academic research and education yet also unusually alive to the changing landscape in which these activities take place, and has to be able to lead us in seeing how to protect the best of the present while innovating in ways that will guarantee our long-term success.
It's daunting to draw up the list of such requirements in the abstract, but I am confident that we'll find a person as capable of leading Duke Medicine forward in the next chapter as Victor was in the last. In the coming weeks, I will be announcing a search committee, which will have ample faculty representation from the School of Medicine's basic science and clinical departments, from the School of Nursing, and also from the university side. By custom given the institutional importance of this position, a trustee or recent trustee has headed health system chancellor searches at Duke, and I am delighted to report that Rick Wagoner, who stepped down as chair of Duke's Board of Trustees last summer, has agreed to chair the search. By custom we have also had a distinguished faculty member as the vice chair, and I'm grateful that Bart Haynes, former chair of the Department of Medicine and lead investigator on the multi-university grant in pursuit of an HIV-AIDS vaccine, has agreed to serve in this role.
I am expecting the search to begin in April and to conclude in late 2014, with the new appointee taking office as early in 2015 as can be arranged. Victor will remain in office through June 30, but that will leave a gap of some months, so I should say a few words about interim arrangements. I do not plan to appoint an interim chancellor. Instead, Bill Fulkerson will have broad leadership on the health system side and Nancy Andrews on the School of Medicine side, with both reporting to me during this interim, and I will be involved in making system-wide decisions. Duke Medicine is in excellent shape to weather this transition, and all parties are committed to making things work. By this time next year, I expect to introduce the new chancellor to this body.
In truth, universities renew themselves through change, and for all the anxieties change can inspire, at the end of the day, leadership transitions are opportunities for institutional renewal. I now want to turn to another dimension of institutional change and renewal, this one involving our physical setting. The campus of any great university is the result of a long, complex process of accretion, but that doesn't mean that change is constant or steady. In general, changes in the built environments of universities track the ups and downs in the larger economy. With the infusion of James B. Duke's transformational gift in the 1920s, Duke sprouted the Georgian campus on East and the Gothic campus on West, including the newly-founded School of Medicine and Duke Hospital. We've never experienced the physical remaking of Duke on anything like a comparable scale -- I once read that at the time, the building of Duke University was the largest construction project underway in America -- and after this prodigious start, Duke added little new for several decades. What was added, be it said, was not always built to the highest or most eternally enduring standards. The seventies and eighties, financially hard times for American universities, gave Duke the Bryan Center and the Central Campus apartments: not exactly Duke Chapel.
When I arrived in 2004, there were cranes everywhere. In fact, building off the unprecedented run of prosperity that continued (with occasional punctuations) from the mid-nineties through 2007 or so, Duke was then in the middle of the second-largest physical transformation in its history. Almost every school got more adequate, handsome, and contemporary space through this process: Engineering's Fitzpatrick CIEMAS Center was dedicated in the fall of 2004; we are meeting in the major Divinity School addition that was completed in 2005, the year that Sanford added Rubenstein Hall; the Nursing School, previously housed in parts of five separate structures, got a proper home of its own in 2006; Arts and Sciences added the French Science Center in 2007; the Law School, whose building was once unkindly likened to a Midwestern high school forcibly crossbred with a branch bank, completed its major renovation and expansion in 2008.
As it opened the door to growing academic excellence in our different units, this time also saw the building of shared structures that drew the university together and enriched our common life. The renovation of Perkins Library, including the addition of the Bostock and the von der Heyden Pavilion, completed in 2005, took Duke's central knowledge repository and carried it forward many decades in a single bound, giving Duke state-of-the-art services for information sharing and knowledge-creation and causing a revolution in student study habits. (Library use increased 40% when the renovated Perkins opened.) The Nasher Museum, also completed in 2005, gave this community a high-end access to the experience of art that has enhanced our lives and put Duke on the artistic map. You will recall that the Nasher's El Greco to Velazquez exhibit, based on the scholarship of its now-director Sarah Schroth, was ranked as one of the top ten shows in America in 2008, a new kind of national news for Duke to receive. The Archibald Motley: Jazz Age Modernist exhibit currently hanging at the Nasher, similarly based on Duke faculty expertise (in this case Rick Powell's), will continue from Durham to the Los Angeles Museum of Contemporary Art and then to the Whitney's new facility in New York -- an event that never could have happened had Duke not created the Nasher Museum. 
In sum, the Duke we now take for granted was in significant measure built in relatively recent times. For reasons you may be able to discern, that building boom ceased rather abruptly in 2008. For the next several years, with few exceptions (one at Fuqua), the cranes vanished from the university side of campus. Since the health care sector of the economy followed a different trajectory even during a catastrophic downturn, building activity in this next phase took place largely on the medical side of the house, with the stunning creation of the Duke Cancer Center, completed in 2012, and the Duke Medicine Pavilion and the Trent Semans Center for Health Education, which both opened last year (pictured below).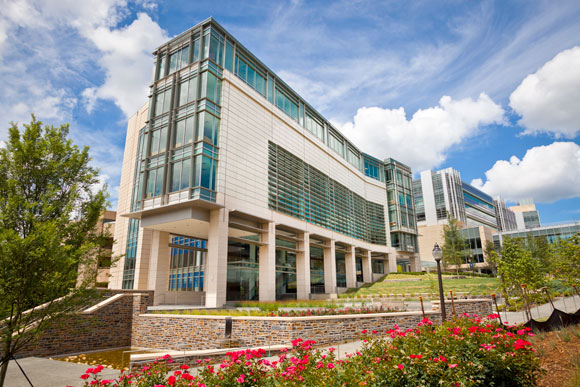 Here let me stop and say that to my mind, building a building can never be the goal of a university. Buildings are means, not ends. A university should have a strong presumption against investing resources in physical entities unless there is a strong case that the things that are our real ends -- research, teaching, the work of knowledge-creation and education broadly considered  -- can only be reached with the help of a physical structure. The boast Duke deserves to make about our second big building boom is not just that we returned to a higher standard of architecture and construction, but that we met this test for capital investments.
The point is worth emphasizing because now, a little unexpectedly, we find ourselves in another building phase. I'd like to think that for every project currently underway on campus, Duke could concisely and convincingly explain not just what is going up but what that facility will facilitate: what high end of a university will be made reachable by this means.
For a quick tour of the campus taking shape around us, I'd begin with the new environment building being built out the back of the LSRC, which will be dedicated next month. The Nicholas School of the Environment is the single Duke school that did not benefit from the last building boom. The new building will give expansion space to a school that's currently massively overcrowded, and, at least as important, it will allow the three academic units that were merged together when the Nicholas School was created to lead a fully unified, physically integrated, life at last.
Proceed down Circuit Drive and turn left on Towerview and you will come to the major academic building put up at Duke in the 1960s, Gross Chemistry. When I had occasion to look up press articles on the opening of this building in 1968, I learned that it was said to be designed in the "modern Gothic" style -- Gothic became "modern," apparently, by substituting heavy, dark, and low for the light, airy, aspiring style we used to know. Well, every university has its Gross Chem. But implausibly yet wonderfully, even Gross Chem has now been touched by the magic wand of transformation. New windows now let light and life into a structure that used to have the forbidding gloom of a tomb. Inside, the dead, empty atrium has been transformed into a bustling, attractive interaction space, drawing people together across the many cross-school initiatives that now have a home here: the Energy Initiative, the Innovation and Entrepreneurship Program, the "big data" project, and the Social Science Research Institute.  With its strategic location near the Law School, Sanford, Fuqua, and the sciences and engineering, the refurbished Gross Hall has the capacity to be the innovation center our campus never had, an experimental space where new questions can be explored drawing faculty and students together in new configurations, at junction of Duke's separate schools.
Skipping to East Campus, I invite those of you who haven't done so to attend a concert at Baldwin Auditorium (above). Forming the focal point of East Campus as Duke Chapel does of West, Baldwin has always had a lovely, dignified appearance, but as with many original Duke buildings, when you walked inside, it all fell apart. Linoleum not stylish since the 50s covered the floor; black plastic bags shut out the light and hid the graceful interior dome; plus the hall, a concert hall, was a veritable graveyard of sound. I give Tallman Trask the lion's share of the credit for remaking Baldwin into the jewel it is today. While perfectly preserving the traditional exterior, a new concert hall has been built inside that's strikingly beautiful and has state of the art acoustics, acoustics that are tuneable night by night to the needs of different forms of musical performance. The Baldwin renovation was recently honored with an Excellence in Construction Award from the Associated Builders and Contractors group, the first national award of its kind given for a Duke building. At the opening concert last September, I heard a compliment that touched me quite as deeply: a faculty performer told me that Carnegie Hall was the only other hall he had ever played where each musician could hear each other musician play. Now, these things matter, and not only in an ornamental sense. People's minds are opened and their powers of attention and appreciation are decisively expanded by the experiences they have at university. Thanks to the Baldwin renovation, Duke now has one more place where people can experience the revelatory power of excellence, an education that will touch thousands of students, faculty and community members for decades to come.
I turn last to two large projects at the center of Duke's campus. You have all seen the massive crane looming over the library, and with a well-trained guide, you might have seen the large hole that's been made where the 1928 Perkins library's insides used to be. The latest construction will complete the Perkins transformation, creating new study spaces, new means for retrieving and sharing Duke's vast collections, and a new place to encounter Duke's extraordinary and growing archive of primary source materials. As with Baldwin, the library's classic, familiar appearance will be lovingly preserved on the outside even as a state of the art new facility is created on the inside. If these buildings give the message that education has something to do with conservation and perpetuation and something to do with innovation -- the two understood as partners, not opponents -- that will be a powerful signature of Duke.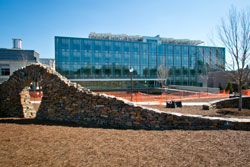 Above, the new environmental building, which will be dedicated in April. Below, the renovated interiors of the Bryan Center.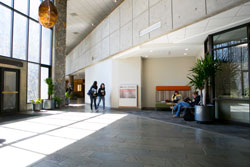 Across the Chapel Quad from the library, another piece of surgery is underway that will write this message in a comparably central fashion. West Union is the central shared student space at Duke, but if ever you toured its quite confusing floorplan, you know that this building was a hodgepodge of random architectural accretions aggravated by incoherent space assignments, the whole in massive need of tender loving care. The chance to radically rehabilitate West Union gave us a chance to think of the whole precinct ranging down the Plaza to the Bryan Center and to ask how the whole could be coherently redeveloped to give maximum benefit to student life. If you've followed the detours, you've seen the first fruits of this emerging project. These include, first, the Bryan Center, shorn of its gloomy exterior panels to create light, visibility, and an air of modernity, and reorganized to give prime space to the most widely used student activities; second, the beautiful Penn Pavilion, in the short term a swing space for dining displaced during West Union construction, and in the longer term, a large, central, flexible events space of the sort this university has sorely needed; and third, the extended West Union plaza, our High Line, an expansion of the outdoor space that's proven so successful as our pedestrian Main Street since its opening in 2006.
These are all preludes, however, to the main event: the construction that will restore and renovate West Union's great historic spaces, replace its incoherent core with well-designed places for gathering and dining, and open the whole for maximum connectivity both to the plaza and to a new garden space to be created on the lower level toward Kilgo Quad. Tallman will remind you of the plans in detail if you like. My point is that we are continuing the building of this university, and doing so not just to add snappy amenities, but in service to our deepest educational mission.
The heart of the ideal of residential education is that a community of engaged, spirited, intelligent people educate each other all day long, stretching and inspiring each other through every encounter, including those marked "academic," those we term extra-curricular, and those that might be labeled merely "social." The challenges to higher education in recent years typically refer to this idea as passe, but in truth, current trends are increasing its value, not diminishing it. When "everything" can be learned online, there will still be profound things that can only be learned face to face, by living people interacting with other living people in the fullness of their living humanity. How many in this room can trace some major transformation in their personal and intellectual life to something a teacher or classmate said or did in college, some spark they struck, some trouble that they took, or some attention that they paid? In the world at large, the vibrant, successful places are ones that offer the richest chance for smart people to collide with each other in person, to bump into and interact with each other in a host of unprogrammed ways.
Schools like Duke have the precious potential to anchor education in direct personal interaction across a massively diverse range of talents and experiences. But we can't take for granted that this benefit will automatically be delivered. To realize this potential, we have to create the enabling conditions for maximal interaction, our own collision spaces, places sufficiently attractive that any student or faculty member in the university might be drawn there on any day, at any hour, with no particular plan, and have chance of running into people they know, or half-know, or are about to begin to know. For all the beauty of this campus, Duke has not had an overabundance of such unowned, collective spaces, though virtually every construction project has added to the stock (think Twinnies in the Fitzpatrick Center, or Star Commons in the Law School, or the Jo Rae Cafe in the Trent Semans Building, or the Nasher Cafe), all with instant success. The restored West Union will be Duke's chance to put this sort of space at the literal center of the campus on a scale that can accommodate the whole community, saying to everyone who looks, Come to Duke and step into a place of endless connection and interaction, a place where people live together and learn together in the most profound way possible.
So you got my message about People: transitions aren't scary; change is renewing! And now you have my message about Places: we're building, but it's not about the building. To close, I will say a word about funds. I made it sound before as if building trends on campuses track the general ebb and flow of the economy, and in a general way they do, but this account leaves out the crucial intermediary: philanthropy. In many public universities, building trends tend to track the generosity of legislators with the taxpayers' dollars. In private universities, private generosity tends to be the crucial variable and enabler. Think back with me. No James B. Duke, no East and West Campus. No Ray Nasher, no Nasher Museum. No Michael and Patty Fitzpatrick, no Fitzpatrick Center; no Roy and Merilee Bostock, no Bostock Library.
Duke's last great wave of building was borne on the back of the Campaign for Duke, which raised $2.3 billion by its close in 2003. And Duke's new buildings benefit from help from our friends in the same way. The West Union project, Baldwin Auditorium, and in the fullness of time, the refurbished Page, were made possible by a gift from The Duke Endowment, the private foundation in Charlotte established by James B. Duke. Rubenstein Library, the rare book and archive facility now being created within Perkins, was enabled by the generosity of David Rubenstein, current chair of the board of trustees. Penn Pavilion was made possible by a gift from Robert and Katherine Penn in support of Duke's dream of student community. 
When we officially launched the Duke Forward campaign in September 2012, we had already recorded gifts and pledges of $1.3 billion on our way to a $3.25 billion goal. I am thrilled to announce that earlier this week, we crossed the $2 billion mark. As significant as the dollar total, the Duke Forward campaign has had extraordinary success in bringing the case for Duke and the vision of its future out to alumni, parents and friends. Since launching the campaign on campus in 2012, we have taken its message to nine major cities with crowds that have broken all known records for Duke gatherings, often by a considerable amount. Over five hundred people came in San Francisco and Los Angeles, a thousand in New York City, four hundred in Chicago, two hundred plus in London, to events offering inspiring exposures to Duke faculty and students from every school, at the end of which, people have been so jazzed that they stayed well beyond closing time. I'm grateful to all who have participated in these events, because they have done something far beyond -- also logically prior to -- the raising of actual funds. They've shared the intellectual excitement of what we're doing here and reminded our friends and donors of this university's ongoing trajectory -- a story they can help create, a mission they can help us to fulfill, through their investments in this university.
This is the final lesson, then: we're building, but it's not about the buildings; so too we're fundraising, but it's not about the money. I have told you our dollar target, but the best "sell" I know how to make in this campaign is to say that the dollars are not the goal: dollars are the means to our real goal, which is in every part educational. The buildings piece is, in reality, a relatively small part of what we're seeking to support. Our primary goals will always be investments in people.  We seek support for faculty -- the funds to draw top minds and to help them reach new heights in teaching, research, and clinical care.  We also seek support for students -- the means to fund our commitment to make Duke financially accessible to all students of high talent, regardless of family background. That commitment, while expensive, is central to our notion of what a university can be -- a diverse community of people brought together by their potential, not by their means -- and what a university should do -- namely, to help our students to live up to that potential and release it for the world.  These financial targets, then, have a real and human goal, which is to continue to populate Duke with the kind of faculty and students who bring its mission to life.  With your help, we've created a vision of education that people are eager to invest in. Now let's make that vision a reality. There's work for all of us in this cause.