How Exercise Benefits More Than Your Muscles
Staying active acts as 1-2 punch and encourages healthy diet decisions
For the average American, each day includes more than 10 hours of sedentary sitting and nearly eight hours of sleeping.
Between all the other responsibilities, that may not leave time for exercise, despite many benefits that include a healthier heart and weight management. Staying active also helps provide balance between food intake and how we feel throughout the day.
Read More
"If you're thinking of going out for a walk, you'll burn some calories and come back energized," said Joanne Gardner, an integrative dietitian and nutritionist with Duke Integrative Medicine. "Activity not only gives us energy, but helps regulate our appetite. Exercise helps your nutrition."
Gardner said remaining active works as a 1-2 punch, encouraging bodies to seek healthy dietary options to refuel and replenish energy from sources of protein, like meat or soy, and carbohydrates, like fruit. Studies by the U.S. Department of Health recommend at least 20 minutes a day of moderate-intensity aerobic activity, which can be a boon to overall health.
"Once someone starts exercising, they'll look at food differently." said Franca Alphin, director of Duke Student Health nutrition services. "It's a matter of psychology - if you're going to invest time to improve yourself, you'll want to keep that up and make healthier choices."
Those kinds of decisions are especially relevant this March as part of National Nutrition Month, an annual education and information campaign sponsored by the Academy of Nutrition and Dietetics. The campaign focuses attention on the importance of making informed food choices and developing sound eating and physical activity habits.
At Duke, LIVE FOR LIFE, the employee wellness program, offers programs for faculty and staff to find new ways to stay fit and get rewarded for their efforts. William Tate, a finance manager for Duke's Office of Licensing and Ventures, has used Duke programs to lose weight and stay consistent with a healthy diet.
Lately, he's been competing in the Get Moving Challenge, a team based wellness competition for faculty and staff. Tate is among the top competitors in the steps category, tallying 2.2 million since Jan. 13. He credits his high number because he dedicates at least two hours a day to exercise and also tries to fit in walks around campus with coworkers who are part of his Get Moving Challenge team, "evOLVe."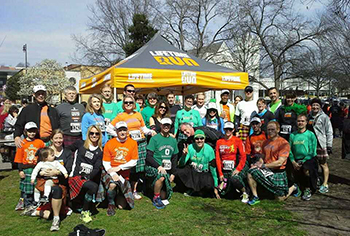 William Tate joined the Cary Life Time Run Group to compete in Raleigh's recent "St. Paddy's 8K Run." Tate finished 378 out of more than 1,700 participants. Photo courtesy of William Tate.
Part of his success is how he's approached his diet, which has fueled his exercise routine and helped him lose nearly 60 pounds in four years. Tate estimates about 85 percent of what he eats is organic meat, fruit or vegetables, a big difference from when he'd eat fast food every day.
"I cut out a lot of sugary foods and snacks like ice cream, jams and jelly, soda, potato chips and fried foods," Tate said. "I no longer frequent Bojangles, KFC or McDonald's. When I do eat out with my family, I choose a healthy portion and eat a salad, steak, fish or baked chicken and veggies."