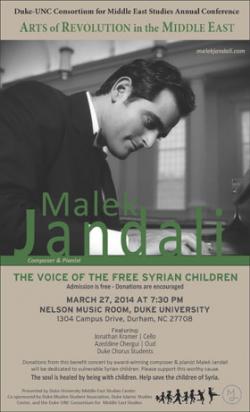 Syrian-American composer and human rights activist Malek Jandali will perform a benefit concert to help the suffering children of Syria on Thursday, March 27, at Duke University.
The "Voice of the Free Syrian Children" concert, which is free and open to the public, takes place from 7:30-8:30 p.m. at the Nelson Music Room on Duke's East Campus. A reception will follow. Street parking is available around East Campus.
The concert is part of Jandali's world tour and the opening event of this year's Duke-UNC Consortium for Middle East Studies Annual Conference  -- Arts of Revolution -- that will also feature artists from Baghdad, Libya, Turkey, Qatar, and Bahrain.
Jandali will perform his arrangement of "Echoes from Ugarit," which was discovered on a clay tablet off the Syrian coast in Ugarit. The concert also will feature original compositions by Jandali performed with Duke Arabic instructor Azeddine Chergui on oud, and music professor Jonathan Kramer (North Carolina State University and Duke) on cello. Duke choral students will also join the stage to perform "Watani Ana -- I am My Homeland."
According to a new report by UNICEF, more than 10,000 children have been killed since the revolution began, and nearly 3 million have been displaced inside Syria, while 1.2 million are living as refugees outside the country. "After three years of conflict and turmoil, Syria is now one of the most dangerous places on earth to be a child," notes UNICEF (http://www.unicefusa.org/assets/pdf/UN01137.pdf).
In collaboration with organizations including UNICEF and Life USA, Jandali has dedicated his performances to these children who have lost their childhood and their hopes. Last year Jandali was awarded the "Gusi International Peace Prize" for his dedication to promoting peace through music. 
"It's an honor for me to present 'The Voice of the Free Syrian Children' and 'Echoes from Ugarit' to the Duke family and wonderful community. I hope my music will unite us all to do whatever it takes to save a child," said Jandali, who will also speak about the soft power of music and art in the Syrian revolution as part of an Arts of Revolution conference panel on Friday morning.
Jandali has strong North Carolina connections. He received a full music scholarship to North Carolina School of the Arts and graduated from Queens University in Charlotte where he received the 1997 "Outstanding Musical Performer Award." He then went on to earn an MBA from UNC Charlotte.
Jandali also held the position of music director and organist at St. James Catholic Church in Concord, N.C., for about a decade, beginning in the late 1990s.
Voluntary donations to Life USA (http://www.lifeusa.org) will be collected at the door by the Duke Muslim Student Association. 
For more information on Jandali's work visit http://www.malekjandali.com. The concert is presented by the Duke Middle East Studies Center and co-sponsored by the Duke Muslim Students Association, the Duke Islamic Studies Center and the Duke-UNC Consortium for Middle East Studies.