Ida Owens Movie Captures Story of a Duke Pioneer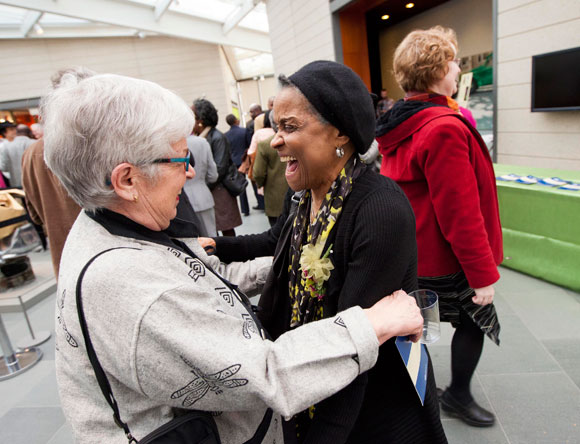 The academic and professional journey of the first black woman to receive a Ph.D. from Duke has now been captured on film.
Tuesday night at the Nasher Museum of Art, The Duke Graduate School presented "The Education of Ida Owens: Science, Civil Rights, and the Integration of Duke University," directed by Ivan Weiss, before Owens and an audience of Owens' family, friends and colleagues and members of the Duke community. The 34-minute film can be viewed here.
"I don't know how to feel, but I'm pretty sure it's positive," Owens said of the fanfare surrounding her accomplishments at Duke and beyond. (Owens is pictured above at the event with Jean O'Barr, the founding director of women's studies at Duke.)
A North Carolina native, Owens earned a physiology degree from the university in 1967. She currently runs a National Institutes of Health laboratory where she researches drug-detoxifying enzymes. Her work on the genetic defects in children with Crigler-Najjar disease remains the core of her research. She admitted she'd rather talk about her current research than the past. 
"I never talk about this," she told an interviewer in the film. "I don't go around remembering. If you wake up every morning thinking about where you came from, it's not good. You move on."
Owens grew up in Whiteville, N.C., in the Jim Crow era. She lost her mother at age 6, but found mentors who helped her navigate through life.
"I had no burning resentment so when I got to Duke, I was not burnt," she said.
A panel discussion followed the film showing featured Raymond Gavins, a history professor; William E. King, university archivist emeritus; and Jorge Kotelanski, a Duke alumnus who wrote his senior honors thesis about Duke's desegregation.
Paula McClain, dean of the The Graduate School, moderated the discussion.
Gavins described the numerous NAACP-mounted legal cases that challenged segregation in public schools throughout the South. Many private schools caved to the pressure with Duke among the last to desegregate in 1961. 
"Duke was a very traditional school. There was a wall of traditionalism that everyone bounced against, but (Owens) pushed through," said King. "But when that wall fell, it fell pretty fast."
To pursue his senior thesis, Kotelanski wrote a letter asking to have Duke's administration records, normally sealed for 50 years, unsealed. The records revealed a persistent effort by students and faculty to desegregate the university dating back to 1948. They also showed a very conservative Board of Trustees and a "profoundly cautious" university president, Hollis Edens, caught in the middle.
"There was nothing in the Duke charter that prohibited the admission of black students," Kotelanski said. "The Board of Trustees just was not prepared to take that step."