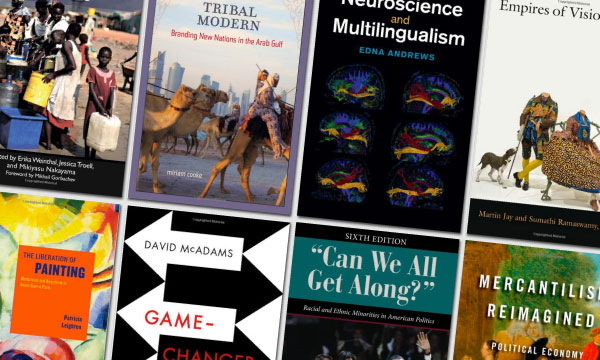 From how parents can best support their children's education to how a human brain can process several languages, Duke writers explore a wide array of topics in their latest books.  
Read More
Many of the books, including new editions of previous titles, can be found on the "Duke Authors" display shelves near the circulation desk in Perkins Library. Some are available as e-books for quick download to your computer. Most can also be purchased through the Gothic Bookshop.
[Duke Today will provide similar updates in the future. If you are a member of the Duke faculty or staff who will be publishing a book of interest to a general audience, send us a message about it along with your publisher's brief description.]
Aidoo, Lamonte, co-editor: "Lima Barreto: New Critical Perspectives" (Lexington Books)
Aidoo, an assistant professor of Romance Studies and Luso-Brazilian Studies, weaves together 12 essays from Brazilian literary scholars, historians and anthropologists. The authors analyze the work of 19th- and 20th-century Afro-Brazilian writer and journalist Afonso Henriques de Lima Barreto.
Andrews, Edna: "Neuroscience and Multilingualism" (Cambridge University Press)
Researchers estimate that half of all humans speak at least two languages, making multilingualism common. Andrews, recipient of the 2013 University Scholar/Teacher Award, offers a new model for analyzing multilingualism. This first book-length study of how two or more languages are represented in the human brain is the culmination of the past 10 years of her research.
Blazer, Dan; Kuo, Paul; Pappas, Theodore; and Clary, Bryan M., co-editors: "Contemporary Surgical Management of Liver, Biliary Tract and Pancreatic Disease" (World Scientific)
Four Duke professors are behind this text on the evolving field of hepatobiliary surgery, which targets the liver, the gall bladder and bile ducts.
Bradley, Curtis, co-author: "Foreign Relations Law: Cases and Materials" Fifth Edition (Wolters Kluwer Law & Business)
Bradley, a law professor and senior associate dean for faculty and research at Duke Law School, has updated the book with material of the war on terrorism, including discussions of targeted killing, electronic surveillance and the use of military commissions. The casebook also considers domestic and international law issues associated with U.S. efforts to combat piracy and to try pirates in U.S. courts.
Chafe, William H.: "Bill and Hillary: The Politics of the Personal" Paperback edition. (Duke University Press)
Historian Chafe's study of one of America's leading political couples has been published in paperback. Chafe argues the trajectory of the Clintons' political lives can be understood only through the prism of their personal relationship. Chafe talked about the book with "North Carolina Bookwatch" host D.G. Martin. (See Duke Today's story here.)
Chakrabarty, Krishnendu, co-editor: "Testing for Small-Delay Defects in Nanoscale CMOS Integrated Circuits" (CRC Press 
Chakrabarty, a professor of electrical and computer engineering, addresses issues in electronics research resulting from advances in design methods and process technologies.
Chow, Shein-Chung: "Biosimilars: Design and Analysis of Follow-on Biologics" (Taylor & Francis)
As many biological products face losing their patents in the next decade, Shein-Chung Chow, a biostatistics and bioinformatics professor in the School of Medicine and at Duke–National University of Singapore, focuses on the scientific factors and practical issues related to the design and analysis of biosimilars. The active drug substance in these medical products  is made or derived by a living organism.
Clemen, Robert T., co-author: "Making Hard Decisions With Decision Tools" Third Edition (South-Western, Cengage Learning)
This new edition of Fuqua professor emeritus Clemen's text updates it for students of business, engineering and other fields, with new material on organizational decisions and new case studies. Clemen has been involved in decision analysis for more than 30 years.
cooke, miriam: "Tribal Modern: Branding New Nations in the Arab Gulf" (University of California Press)
cooke, a professor of Arab cultures, explores the blend of tribal and modern identity in the United Arab Emirates, Kuwait, Qatar and Bahrain. Her book was recently reviewed in The Financial Times.
DeFrantz, Thomas, co-editor: "Black Performance Theory" (Duke University Press)
DeFrantz, a professor of African and African-American studies, dance and theater studies, has collected essays by scholars in the emerging field of black performance theory. Their work explores how blackness is imagined in and through performance. Many of the essays are by performers such as DeFrantz.
Goodwin, Craufurd, series general editor: "Behavioral Economics: A History" Historical Perspectives on Modern Economics Series. (Cambridge University Press)
Goodwin, an emeritus economics professor who has been a teacher and administrator at Duke since 1962, has taught both graduate and undergraduate students on courses covering the history of economic thought and policy, macroeconomics and microeconomics.
Harris, Angel L., co-author: "The Broken Compass: Parental Involvement with Children's Education" (Harvard University Press)
Harris, a professor of sociology and African-American studies, and his co-author use more than 60 measures to examine how parents of varied backgrounds contribute to their children's academic performance. They find no clear connection between parental involvement and improvement.
Helms Pickett, Stephanie: "Her Name Is SHE" (CaryPress)
Helms Pickett, the newly appointed director of the Women's Center at Duke, considers the challenges faced by contemporary women and how they may use wisdom to complete a journey toward authenticity.
Hodel, Richard; Loveland, Donald; and Sterrett, S. G., co-authors: "Three Views of Logic: Mathematics, Philosophy and Computer Science" (Princeton University Press)
This undergraduate textbook arose from an interdisciplinary course taught at Duke by computer science professor emeritus Donald Loveland, mathematics associate professor emeritus Richard Hodel and former Duke philosophy professor S.G. Sterrett. The course and book offer three different aspects of logic. Each part is particularly relevant to the discipline of the instructor.
Holloway, Karla FC: "Legal Fictions: Constituting Race, Composing Literature" (Duke University Press)
Holloway is the James B. Duke Professor of English. In her latest book, she studies how black authors have reframed legal constructions of race. Her analysis focuses on works by Toni Morrison, Charles Johnson, David Bradley, Ralph Ellison and Nella Larsen.
Jackson, Robert B., co-author: "Campbell Biology in Focus" (Pearson)
Co-authored by Jackson, the Nicholas Professor of Global Environmental Change, this textbook for introductory college biology courses emphasizes the content and scientific skills that students will need in higher-level courses.
Jawad, Abdul Sattar: "T. S. Eliot in Baghdad: A Study in Eliot's Influence on the Iraqi and Arab Free Verse Movement" (Edwin Mellen Pr)
Jawad, an Iraqi-born professor of comparative literature and Middle East studies, sheds light on the revolutionary influence of Eliot's poetry on the free verse movement in Iraq and Lebanon. He focuses on the mystical poets Al-Sayyab, Jabra Ibrahim Jabra, Yusuf Al-Khal, Khalil Hawi and Adonis -- known as the Tammuzi Poets. Jawada, who has translated Eliot's "Waste Land" into Arabic, personally knew all five of these modern poets.
Leighten, Patricia: "The Liberation of Painting: Modernism and Anarchism in Avant-Guerre Paris" (The University of Chicago Press)
Leighten, a professor of art history and visual studies, examines anarchist politics as an influence on such artists as Pablo Picasso, Juan Gris, Frantisek Kupka, Maurice de Vlaminck and Kees Van Dongen.
Lin, Nan, co-editor: "Social Capital and Its Institutional Contingency: A Study of the United States, China, and Taiwan" (Routledge)
Lin, a professor emeritus of sociology, collects essays for a comparative analysis of social capital. This new area of study explores how political-economic regimes (command versus market) and cultural factors (family centrality versus diverse social ties) affect the characteristics of social ties and social networks in different countries.
McAdams, David: "Game-Changer: Game Theory and the Art of Transforming Strategic Situations" (W. W. Norton & Company)
The Fuqua School of Business professor transforms the concept of game theory to introduce what he calls the "game-theory approach to life." Enlivened by colorful characters and examples from business, medicine, finance, military history, crime and sports, the book presents real-life lessons "in a readily accessible way for the benefit of nonbusiness readers," according to Kirkus Reviews.
McClain, Paula, co-author: "American Government in Black and White" Second Edition (Oxford University Press)
McClain, a professor of political science and dean of the Graduate School, is the co-author of this engaging introduction to American government that uses racial and ethnic equality as its underlying theme.
McClain, Paula, co-author: "'Can We All Get Along?': Racial and Ethnic Minorities in American Politics" Sixth Edition (Westview Press)
In a new edition, McClain and her co-author update their survey of coalition, competition and consensus building among four major racial and ethnic groups -- African-Americans, Latinos, Asian-Americans and American Indians -- in the face of ongoing conflict.
Mellon, Elizabeth, co-author: "The Strategy of Execution: A Five Step Guide for Turning Vision Into Action" (McGraw-Hill)
Mellon, executive director of Duke Corporate Education, and her co-author explore why approximately 90 percent of new strategic initiatives in business fail to deliver intended results. They break down the process of ensuring that business strategies translate into measurable profits and growth.
Neuschel, Kristen, co-author: "Western Civilization: Beyond Boundaries" Sixth Edition (Wadsworth, Cengage Learning)
Neuschel, associate professor of history and director of the Thompson Writing Program, is a specialist in early modern French history. This sixth edition is briefer than its predecessors, incorporating pedagogical features such as focus questions, key terms and section summaries to better support students of Western civilization.
Ramaswamy, Sumathi, co-editor: "Empires of Vision: A Reader" (Duke University Press)
Ramaswamy, a professor of history and international comparative studies, is co-editor of this overview of the history of the role of images -- paintings, maps, surveys, postcards and photographs -- and the various ways they shaped colonial and imperial histories.
Judith Ruderman: "Race and Identity in D. H. Lawrence: Indians, Gypsies, and Jews" (Palgrave Macmillan)
Ruderman, former vice provost and current adjunct professor of English, examines D. H. Lawrence's blunt language on issues of race and ethnicity, which has been criticized by some as offensive. She considers how such language can inform and enliven contemporary discussions of these sensitive topics.
Silliman, Brian, co-editor: "Marine Community Ecology and Conservation" (Sunderland)
Silliman, the Rachel Carson Associate Professor of Marine Conservation Biology in the Nicholas School, collects essays on conservation advancements over the past decade.
Stern, Philip, co-editor: "Mercantilism Reimagined: Political Economy in Early Modern Britain and Its Empire" (Oxford University Press)
These essays encourage readers to rethink the history of mercantilism in light of new scholarship on early modern politics, culture, science and economy. Stern is an associate professor of history and co-director of the BorderWork(s) Humanities Lab at the Franklin Humanities Institute.
Thompson, Robert J.: "Beyond Reason and Tolerance: The Purpose and Practice of Higher Education" (Oxford University Press)
Thompson, a professor of psychology and neurophysiology and former dean of Trinity College of Arts and Sciences, emphasizes the developmental aspect of undergraduate education, including the cultivation of empathy and a "personal epistemology." In a review, Inside Higher Ed said Thompson "makes a strong case for what his colleagues in the liberal arts do when they teach."
Weinthal, Erika, co-editor: "Water and Post-Conflict Peacebuilding" (Routledge Press)
Weinthal, associate professor of environmental policy at the Nicholas School, makes the case that water may be one of our best hopes for peace. Weinthal and her co-editors present 19 case studies illustrating the role water management can play in rebuilding trust after conflict and preventing a return to conflict.
Winner, Lauren, contributor: "God for Us: Rediscovering the Meaning of Lent and Easter" (Paraclete Press)
Winner, assistant professor of Christian spirituality at the Divinity School, is among the contributors offering daily reflections and prayers in an illustrated volume for the holy season of Easter.