West Union Demolition Enters New Phase
Crews begin tearing down 'core' of building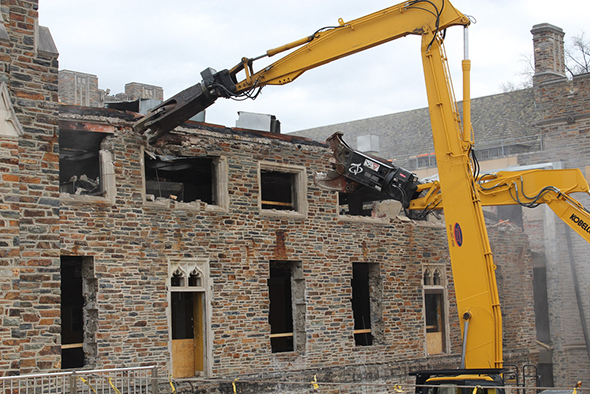 Main demolition of the West Union Building began this week as construction crews started the process of removing the core of the nearly 100-year old building.
Heavy construction machinery tore into exterior walls on Feb. 25, the latest phase of work as Duke moves toward an anticipated project completion date of January 2016.
When finished, the new West Union will feature a state-of-the-art dining facility capable of serving 6,000 meals per day to students, faculty, staff and guests, with a focus on enhancing the undergraduate community experience. The building will also address student needs through the creative use of space for individuals, clubs and organizations.
"There has been a lot of effort put into preparing for this structural demolition - planning, engineering, various parts of the structure which had to be reinforced, salvaging materials for use in the new structure," said Will Senner, project manager for Skanska USA Building. "This is the visual culmination of that effort. It's exciting."
Demolition of the core is expected to be complete next week. Find more information about the construction online at the West Union construction blog. Below, check out a video of this week's demolition: