Reach Fitness Goals with Run/Walk Club
Signup now for free group offering weekly social structure for exercise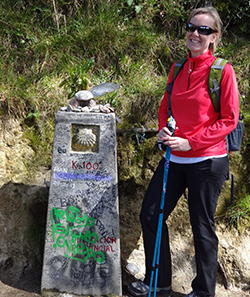 In April of last year, Eve Marion was walking upward of 20 miles a day, a distance she once thought wasn't possible.
Read More
Traveling 100 miles along Spain's El Camino de Santiago - a passage made famous for its medieval pilgrimage route - she prepared for nine-hour hikes with the help of Duke's Run/Walk Club, a free, weekly group for Duke community members who seek a social exercise experience. Marion joined the club in the fall of 2012 to get exercise at the end of the workday and found she was more adept than expected.
"I never had any intention of running and I didn't believe I could ever run, but I started walking and kept going longer and longer and loved it," said Marion, an associate in research and administrator for the Integrated Toxicology and Environmental Health Program and Duke Superfund Research Center. "It's funny how we internalize feelings and think we can't do things, but I wouldn't be walking long distances or even running if it wasn't for Run/Walk."
The Run/Walk Club, sponsored by LIVE FOR LIFE, Duke's employee wellness program, will welcome the return of Marion and hundreds of other faculty and staff and their dependents when its spring session begins March 10. Ideal for beginner walkers to marathoners, the club meets twice a week until May 28 at East and West campuses as well as Duke Regional and Raleigh hospitals. Signup is available now.
"Work can take up a lot of time and when I joined, I knew I had to carve out some time for myself," Marion said. "If I didn't have a regimen in place, I was never going to be able to handle that trip to Spain."
At each workout location, participants form groups according to fitness level and follow clearly laid out plans to help participants improve fitness and lower stress.
In addition to weekly sessions, the Run/Walk Club will host "Yoga for Runners" and circuit training events, a series of free, outdoor sessions on East Campus on Thursdays. The sessions help walkers and runners develop ideal muscle balance and injury prevention for exercise.
"Our goal is to not only have an opportunity for exercise and social interaction, but help each participant find a variety of ways to feel better," said Katie MacEachern, a fitness specialist with LIVE FOR LIFE. "Coaches and peers are there to provide support and education every step of the way."