The Future of Duke's Workforce
As Duke employees get older, a younger generation enters the ranks
Like many workers his age, Jordan Hale has found success in changing positions early in his career to achieve goals like working with students and learning new skills to manage his department's budget.
But at a time when many 18 to 33-year olds have made job-hopping almost an annual exercise, Hale, 29, is bucking the trend. He wants to reach his dream of becoming a senior-level administrator with the skills he's learned from his past, present and future experiences at Duke.
Read More
"I found it a blessing to be able to move around because I know that doesn't happen at Duke too often," said Hale, the director and assistant dean of New Student Programs who joined Duke in 2008. "The belief that folks have in me to do a good job is something I don't take lightly and new challenges come along all the time. I envision being with Duke for the foreseeable future."
Hale's commitment isn't as common these days for 18 to 33-year olds known as Generation Y, also called "Millennials." According to the U.S. Bureau of Labor Statistics, this age group spends about two years per job before moving on to another. Duke is working to reverse this through learning and professional development opportunities as a third of the university workforce becomes eligible to retire within five years.
An outlook like Hale's is important for Duke, where 42 percent of University and Health System employees are 49 or older. Millennials comprise 23 percent of Duke's faculty and staff, but that number is expected to grow. By 2020, nearly half of the U.S. workforce will be Millennials.
 In the past three years, hires at Duke of Millennial-aged employees have steadily risen while hiring of new Generation X and Baby Boom employees has dropped. According to Duke Human Resources, 2,561 Millennials were hired in 2013, nearly 1,000 more than the next closest age group, Generation X. Millennials also represented the highest number of transfers in 2013, with 1,310 switching jobs within Duke.
Kyle Cavanaugh, vice president for administration, said keeping Millennial generation employees within Duke will be important moving forward, as developing managerial skills and experience working with increasingly diverse faculty and staff are key.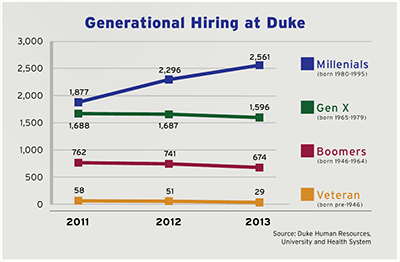 "For one of the first times in our country's history, we have multiple generations in the workforce who have grown up with different technological and educational experiences," he said. "Understanding those differences and openly discussing both organizational and individual expectations is of growing importance."
From free online classes at Lynda.com to in-class learning at the First-Time Supervisors Program or workshops with Learning and Organization Development, there are traditional resources at Duke to help attract and retain employees. However, Millennials may be separating themselves in career paths by choosing jobs based on intrinsic needs such as happiness with location as much as a secure job with strong benefits and pay.
"To me, I see Generation Y influencing their career by making lemonade out of lemons," said Steve Dalton, senior associate director of the Career Management Center at the Fuqua School of Business and author of "The 2-Hour Job Search." "In our economy, they can't necessarily control their pay or promotion schedule, but they can control the meaning of what they do."
In interacting with students, Dalton has found a strong connection to work often includes factors like finding an ideal place to live or a job that connects deeply with a person's beliefs or values. The result, Dalton said, is that happiness is becoming a higher priority compared to previous generations.
"Many want to work for a mission they believe in or be in a city they love," Dalton said. "By identifying passions up-front, you stay happy, which makes it easier to learn on a job and get better at your job."
For Zach White, this is something he knows well.
Zach White, assistant director of the Iron Dukes Annual Fund, works in his Cameron Indoor Stadium office. A former student, White said there's nowhere he'd rather work than for his alma mater.
White, who graduated from Duke in 2010 with a degree in mathematics, spent three of his undergraduate years as a line monitor and head line monitor for Duke men's basketball games, a position that coordinates with Duke Athletics and helps organize and run student activities and game day planning. While his parents moved around the East Coast - from Pennsylvania to Alabama and Kentucky - he found a new, permanent home at Duke and in Durham. When it came time to graduate, he said there was no place he'd rather be than at Duke, where he formed his identity.
"I live, breathe and sleep Duke because I view Duke as my home," said White, 25, assistant director of the Iron Dukes Annual Fund in Duke Athletics. "There are so many benefits about being here that can't be replaced - whether it's a chess match or a club badminton game, I'm going to cheer for Duke like crazy. These are feelings that bond me to the university I couldn't find elsewhere."
His story isn't uncommon. Athletics is among the departments at Duke that hire the most Millennial-aged employees, bringing in 63 staff members between 18 and 33 in the past three years. During the same timespan, 46 Millennial employees transferred within the department.
Whereas Athletics was once small with employees handling a variety of roles within business operations, compliance, sports information and more, each of those areas is now its own entity. That's allowed for younger employees like White to find a role and rise from within, rather than moving to a new job at a different school or employer.
Chris Kennedy has worked with Duke Athletics since 1977.
"We have a lot more mobility in collegiate athletics that didn't exist even 20 years ago," said Chris Kennedy, 64, senior deputy director of Athletics and a Duke employee since 1977. "I benefit from being around all the youthful energy of our students and staff."
That connection also exists in the world of academia, where Millennials at Duke comprise 5 percent of all faculty. They'll fill a growing need with nearly a third of all faculty eligible to retire within the next five years.
Jessi Streib is part of that effort. Streib, 29, began her first semester of teaching with Duke's Department of Sociology this fall after earning a Ph.D. from the University of Michigan. While Streib may lack the tenure of her peers or age - faculty who teach in the department are as old as 94 - she sees her youth as a way to also excel.
For example, Streib, an assistant professor, said her closeness in age with undergraduate and graduate students allows her to connect with them and their research. This spring, she's working on a project with two undergraduate students to study how social class is portrayed in children's books and movies.
"Since I'm part of my students' generation, this project will be neat to go back through the stories we were told as children, but with a much more analytic lens," Streib said.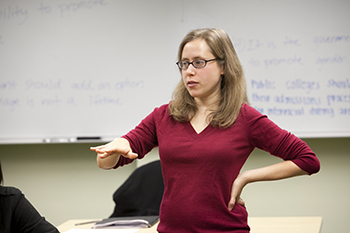 Jessi Streib is among the younger faculty at Duke. While she believes her youth offers a unique perspective on interacting with students, she said there is plenty to learn from her faculty colleagues.
When it comes to connecting with peers, Streib said a difference in age isn't a problem because her colleagues share common bonds in research interests. She said she chose to come to Duke because of a supportive atmosphere for research and mentoring.
No matter the difference in age - young or old - Streib said every Duke employee can provide unique perspectives for the institution.
"It strikes me from time to time that the person I'm talking to has been doing the job I'm starting now longer than I've been alive," Streib said. "I think it hits me in those moments that there's a whole lot that I don't know."