Habitat for Humanity at Duke and UNC Compete
Fundraiser runs through March 8, second Duke-UNC Men's Basketball game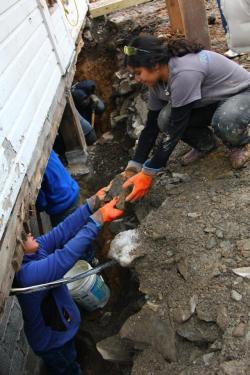 While Duke and UNC compete on the basketball court, the schools' two Habitat for Humanity campus chapters are competing to raise money to help pay for houses they are building for low-income residents. The competition, which started February 10, corresponds to the week of the first game at Chapel Hill - postponed to Thurs. February 20 - will continue to the second matchup on March 8 in Cameron Indoor Stadium. Organizers hope to  raise $10,000.
"Each chapter's students come out throughout the year to physically build their respective sponsored Habitat house," said Visakha Suresh, Duke's chapter president. "But an important part of the chapter's task is raising money to buy the materials that go into building these houses."
Habitat for Humanity, a nonprofit, ecumenical Christian ministry, builds and repairs houses all over the world using volunteer labor and donations. It has more than 1,500 local affiliates, including the UNC and Duke chapters, in the United States and more than 70 national organizations around the world.
Duke Habitat for Humanity is currently building and sponsoring a house for the Thuku Kabata family right off of Duke's campus on Chapel Hill Road. The UNC chapter is working on the final house in Phoenix Place, a Habitat for Humanity neighborhood in Chapel Hill.
"I guess what I really enjoy about the premise of this competition is that it takes an age-old rivalry and uses the energy and passion derived from it to give back to the community," Suresh said. "So this is not the sort of competition that anyone really loses, but one in which everyone benefits."
To donate and track each chapter's progress, visit: http://dukevsunc.tk/