Suspect in Battery Arrested in Charleston
Indiana man faces similar charges in Charleston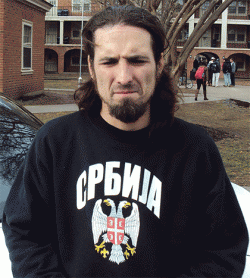 The suspect wanted on a charge of sexual battery of a female student on Duke's campus Thursday has been arrested in Charleston, S.C. for a similar incident and is currently in custody.
Michael J. Andrews, 31, of 4518 Mohr Estate South Drive in New Palestine, Ind. was arrested earlier today on one count of misdemeanor battery in the second degree by the Charleston Police Department.
Andrews was being sought on a warrant issued yesterday for one count of misdemeanor sexual battery following the report by a Duke student who said she had been inappropriately touched while walking on an outdoor stairway between Keohane and Few Quad.
"We appreciate the collaboration of the various law enforcement agencies involved in identifying and apprehending this suspect so quickly," said Kyle Cavanaugh, vice president for Administration. 
For additional information about the incident on Duke's campus, visit the Duke Police website.