Students Perform Stories of Campus Life in Me Too Monologues
2 more shows left, 7:30 PM Fri and Sat in Nelson Music Room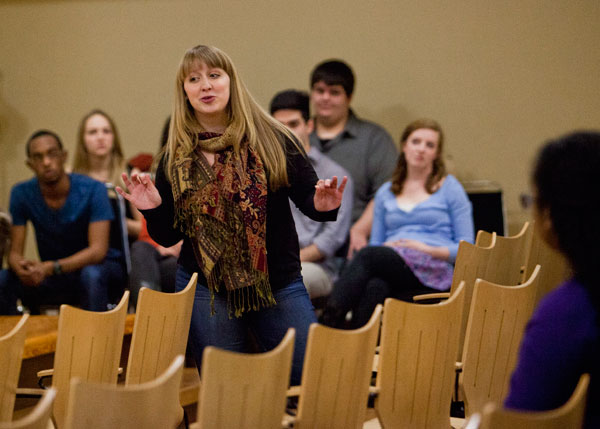 Madelaine Katz  rehearses Wednesday for the "Me Too Monologues," one of the more creative student-run ways that studentscome together and share the highs and lows of their college experiences.
Students write and anonymously submit stories about their own experiences, while others audition to perform these stories.  Performances begin Thursday with additional shows Jan. 31, Feb. 1 and Feb. 7-8.  All shows are free and start at 7:30 p.m. in the Nelson Music Room in East Duke Building on East Campus. 
The show is presented by the Center for Race Relations.
The stories are true, and speak to students' everyday experiences related to race, ethnicity, gender, sexuality, and socioeconomic status. The Me Too Monologues first debuted on the Martin Luther King Weekend Celebration in January 2009 and has since been held annually.
Photos by Megan Morr/Duke University Photography