Ajmera Appointed Social Entrepreneur in Residence at Duke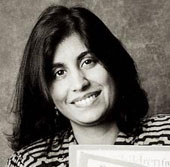 Maya Ajmera
Maya Ajmera, who founded the non-profit Global Fund for Children while a graduate student at Duke, has been appointed the university's first social entrepreneur in residence.
Ajmera will engage with all levels of the Duke community in social entrepreneurship and help create a learning environment that inspires and prepares future social entrepreneurs who can turn knowledge into action. The appointment, by Duke's Innovation and Entrepreneurship Initiative, is effective for 2014.
Ajmera, who earned her master's degree in public policy from Duke in 1993,  also will be a visiting professor of the practice of public policy at the Sanford School of Public Policy.
Ajmera founded and spent 18 years presiding over the Global Fund for Children (GFC), a non-profit organization that invests in innovative, community-based organizations working with some of the world's most vulnerable children and youth. GFC has awarded more than $30 million in capital to nearly 500 grassroots organizations in 78 countries, touching the lives of more than 9 million children.
Among her responsibilities at Duke, Ajmera will be speaking at campus events and in classes, working with students and potential employers in the social sector to foster career placement, collaborating with Duke faculty to promote the inclusion of social entrepreneurship into the curriculum, and developing a network of alumni social entrepreneurs and supporters.  She will also hold office hours to mentor emerging student social entrepreneurs and will coach student venture teams and lead "dynamo" feedback sessions.
"Social Entrepreneurship is a signature activity of the I&E Initiative, and we take great pride in attracting someone of Maya's caliber to our program," said Eric Toone, vice provost and director of Duke I&E.  "Her breadth of experience and depth of knowledge in this rapidly evolving field will help us take an activity that is already a tremendous strength at Duke to a whole new level.  And it is an absolute pleasure engaging with Maya's passion for all we're trying to accomplish here."
Ajmera said she is "thrilled to have the opportunity to work with students and faculty on social entrepreneurship across Duke University. Duke students are very committed to 'turning knowledge into action' and I want to help them make their ventures a reality."
Ajmera is also an award-winning author of more than 15 children's books, and is the recipient of numerous leadership awards, including the 2011 Henry Crown Fellowship at the Aspen Institute and the 1993 Echoing Green Social Entrepreneurship Fellowship.
She co-chairs the board of Echoing Green, a premier venture capital fund for early stage social entrepreneurs; is an adviser to the Center for the Advancement of Social Entrepreneurship at the Fuqua School of Business; serves a trustee of the North Carolina School of Science and Mathematics; and is a board member of New Global Citizens and Kids in Need of Defense.
A graduate of Bryn Mawr College, Ajmera currently serves on Sanford School's board of visitors.