Ring in the Holidays with Seasonal Sing-along
Employee event on Dec. 3 features performance by Duke Medicine Chorus
Duke University and Duke University Health System staff and faculty are invited to the Employee Holiday Concert with the Duke Medicine Chorus on Dec.3.
The event, sponsored by Duke Human Resources, is from 11:30 a.m. to noon in Duke Chapel. A sweet treat will be provided after the concert.
"We know people are often busy, but we hope they'll take this opportunity to take a short break with their colleagues to delight in the beauty of the holiday music in the most iconic building on campus," said Denise Evans, executive director of Duke Staff and Labor Relations and Staff and Family Programs.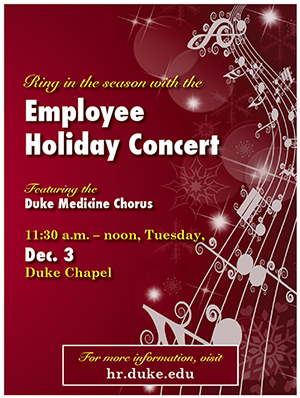 Click here to download the flier.
The Duke Medicine Chorus, comprised of faculty, staff and students associated with Duke's clinical and medical research areas, will perform holiday and other seasonal songs. The concert will include a sing-along of favorites like "Jingle Bells" and "Let it Snow."
"It is an eclectic collection of music, with songs in English and Spanish, some traditional hymns and some contemporary pieces," said Allan Friedman, director of the Duke Medicine Chorus. "It is always a thrill to be able to sing in the Chapel, whether as part of the chorus or as part of the audience."
Employees are encouraged to walk or take a bus to West Campus for the event. Among parking options is Parking Garage IV (near the Bryan Center) at $2 per hour. 
For more information, contact Staff & Family Programs at (919) 684-9040, or visit the Human Resources website.