Duke in Pictures: Commemorating Veterans Day
Community members gather to mark holiday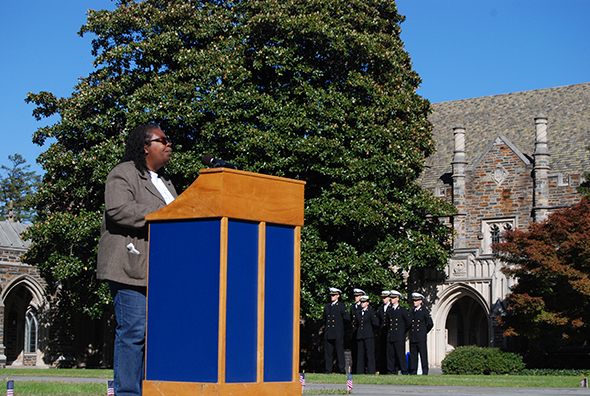 About 75 members of the Duke community and local veterans gathered Monday to take part in Duke's annual commemoration service for Veterans Day.
Sponsored by Duke Human Resources, the event featured a speech from Karen Jean Hunt, above, an African and African-American Studies librarian at Duke who reached the title of sergeant when she served in the U.S. Air Force from 1975 to 1980. Sporting a T-shirt that read, "Women are Veterans... and I'm one," Hunt spoke about her decision to join the Air Force and how it changed her life, like allowing her to attend college.
Hunt continued serving her country after leaving the Air Force, acting as a Peace Corps volunteer in Kenya and more.
"After arriving at Duke in 2002, I volunteered for the American Red Cross during Hurricane Katrina in 2005 and the 2006 tornado outbreak in Tennessee," she said. "For me, it is always about service."
Along with Hunt, there are about 120 veterans enrolled as students at Duke and 700 self-identified military veterans in Duke's workforce.
To see more images from this year's Veterans Day event, visit the Working@Duke Facebook page.