Stopping to Smell the Roses
Pat McPherson appreciates the small things in life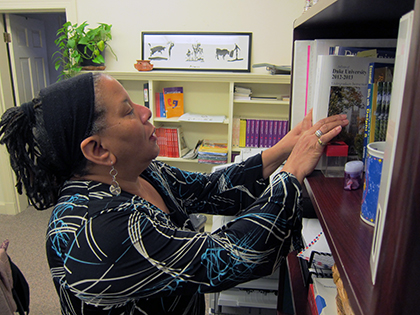 Name: Pat McPhersonPosition: Administrative secretary, Romance StudiesYears at Duke: 12
What I do at Duke: I work for the program coordinator to the director of Undergraduate Studies and the associate professor of the practice of Spanish and director of the Spanish Language Program. I help with course listings, reports, student evaluations, Sakai grading and managing calendars. I serve many people, doing something for everyone.
If I had $5 million, I would: Donate 10 percent to my church because I'd consider that a blessing. Then I'd pay off my bills, help other family members and take a trip to Germany. Growing up, my dad was in the service and stationed in Germany, so I've always wanted to go back and even live there at some point.
My first ever job: I was a mother's helper in Teaneck, New Jersey when I was 13. I helped with daily chores around the house like cleaning, ironing and watching two kids, Jimmy and Jennifer. I was even shown how to set a formal table because there were always guests at the house. I did it after school two days a week and Saturdays.
My dream job: I'd like to be a nurse. I've always been a caretaker and companion. My mother was a RN and I have a passion for it. You have to take care of the ones who laid the groundwork for us.
If someone wanted to start a conversation with me they should ask me about: The Lord and all his goodness. I get joy just by waking up in the morning. I'm thankful for seeing another day, and I want to do good deeds unto others.
The best advice I ever received: It was from my mother, who told me that when you fall down, dust yourself off, pull yourself up by your bootstraps and push on.
What I love about Duke: I love the people of Duke because we come from many backgrounds and there are so many different nationalities of people across campus. I also love the landscaping. I remember starting in June 2001 and coming up Chapel Drive and looking at beautiful roses that greeted me. We have one of the best campuses.
When I'm not at work, I like to: Work in my yard. I mow, weed and try my luck with flowers. I keep it all well-manicured. I like to have a nice looking yard.
If I could have one superpower, it would be: It'd be more of a supernatural power so I could talk to my mom and sister again. I lost my mom two years ago and my sister died 10 years ago from a heart attack. They were my role models and a world of information.
Something most people don't know about me: I love carpentry. Little by little I'm trying to renovate my home. My cousin is a carpenter and I help him. He's taught me a lot. We've put in new windows, repaired floors, finished my deck and the next big thing is to work on my kitchen. It's taught me a lot about patience.