Duke in Pictures: Citizens' Police Academy
Duke Police Citizens Academy goes behind the scenes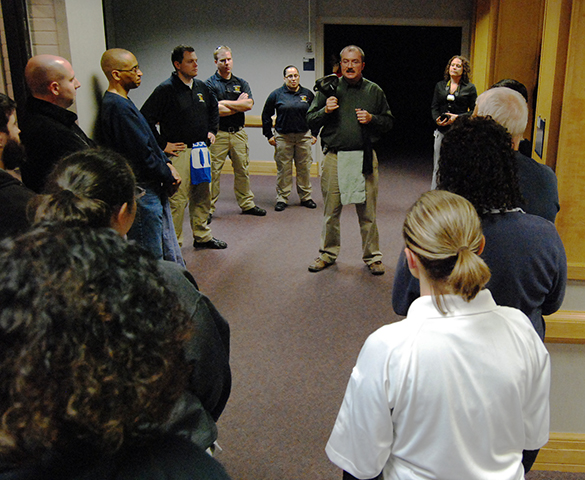 Jeff Frisbie, an officer with the Duke University Police Department, spoke with other officers and about 20 Duke staff this week as part of Duke's Citizens' Police Academy.
Members of the Citizens' Police Academy, an eight-course, six-week program geared to offer students, faculty and staff the chance to gain greater insight into the operations of Duke Police, spent the Oct. 21 class in drills to learn behavior of police during situations involving shooters. Drills included "sweeping" areas in teams to find a pretend "victim" and "shooter."
"It's been such an informative process to learn more about all the different things police do," said Karen Goddard, manager of claims and administration with Corporate Risk Management. "Learning the behind-the-scenes aspect of it all showed me the intensity of the situations they go through."
The current session of the Citizens' Police Academy concludes this month. Another session is being planned for early 2014. Faculty or staff interested in joining the next session can contact crime prevention office Eric Hester at eric.hester@duke.edu.