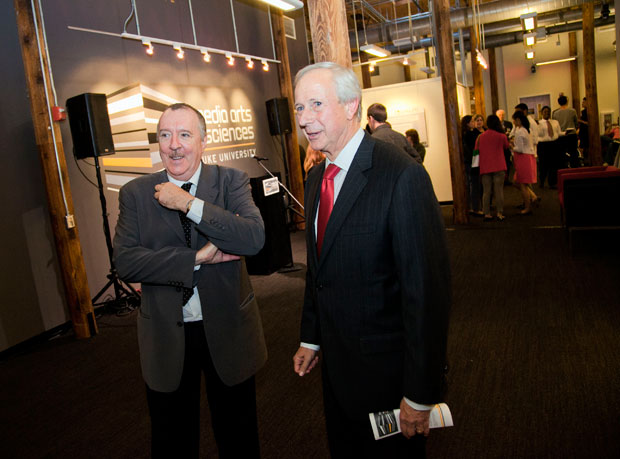 How can a space transform how we teach, learn and explore? Wednesday evening, more than 100 members of the Duke community attended the grand opening of Media Arts + Sciences program to explore just that.
The new program harnesses ideas from the arts and humanities and couples them with approaches from the sciences. Visitors saw these collaborations firsthand as they walked through the new space, stepping into the eight laboratories and multiple work areas that now occupy Smith Warehouse. Laurie Patton, dean of arts and sciences, and Srinivas Aravamudan, dean of the humanities, spoke on the atmosphere of creation and reinvention. Provost Peter Lange described the importance of the space, calling it "a constant place of creativity, innovation, and collision."
President Richard H. Brodhead spoke of the novel collaborations now housed under one roof. "The subjects that come together in this building come together by virtue of the fact that each of them was able to reimagine itself with the tools and the mediation of new media -- everything that has come to us through the digital revolution," Brodhead said.
Pictured above, Hans J Van Miegroet, chair of the Department of Art, Art History & Visual Studies, chats with President Richard H. Brodhead during the opening for the new Media Arts and Science space at the Smith Warehouse.
Photos by Megan Morr/Duke University Photography. Text by Jonathan Lee