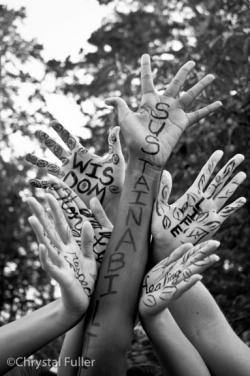 Green is the color of choice for this year's sustainability-focused Duke Arts Festival.
Now in its fifth year, the Duke Arts Festival aims to connect visual and performing art with other academic disciplines and social issues. This year's theme, ARTS+Sustainability, encourages students to exhibit their work and better link their academic experiences with their art, said Scott Lindroth, vice provost for the arts.
"The sustainability theme offers an example of how art can engage in urgent social questions and problems," Lindroth said. "The (festival) reveals just how many students are engaging with art, even if they are not majoring in the arts. And conversely, students who normally do not pay attention to art might be surprised to see how their interests in other fields might intersect with artistic practice."
Although it unofficially kicked off on Sept. 20 with the construction of Fort Duke -- which broke the world record for the most boxes used in a cardboard structure -- the Arts Festival runs from Oct. 25 to  Nov. 1. A list of exhibitions and schedule of events, which include film screenings and dance performances, is available here. Following the conclusion of the festival, the annual Duke Entertainment and Media Alumni Network (DEMAN) Weekend will bring together current students and alumni in the arts.
Lindroth said this year's guest artists -- filmmaker and photographer Chris Jordan, installation artist Bryant Holsenbeck and multimedia artist Pinar Yoldas -- all focus on environmental processes. Members of the Duke community can meet these artists through workshops and lectures, including a panel discussion featuring all three guest artists.
The heart of the festival is student art. This year more than 200 submissions will be organized into exhibits focusing on various facets of sustainability.
One exhibit, "Affirmations for Sustainability," features 64 black-and-white photographs taken by students in Antonio Bogaert's visual arts class. The photographs, which feature statements on environmental justice written on students' bare bodies, were a group exercise in "compassion and justice," said Bogaert.
Sophomore Rita Lo, who is in Bogaert's class, learned that sustainable living -- like art itself -- is multi-faceted and creative.
"There are many ways to live sustainably, whether it is saving endangered species or simply recycling," Lo said. "There are also many creative ways artists can portray these simple actions and their effects. My group hoped that by painting the messages on ourselves, we would inspire conversations on the naked truth behind environmental degradation."
Bogaert said art can appeal to a range of human emotions that science and statistics sometimes cannot.
 "The task of the artist is to bring beauty into the world, to touch people's hearts, to open up all our senses and sometimes to wake people up when our behaviors are not constructive," he said.
For more information on the festival and other events in the arts at Duke, visit arts.duke.edu.