Celebrate Staff During 'Housekeepers Week'
Annual recognition takes place Sept. 8 to 14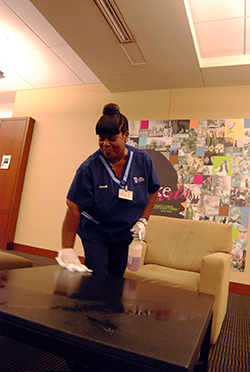 Duke community members have a special chance this week to recognize the work that goes on behind the scenes to keep Duke looking clean and tidy.
International Housekeepers Week runs Sept. 8 to 14 and represents a time to focus attention and recognition on professional housekeepers who maintain a clean, safe and healthy environment while working in facilities across Duke's academic campuses, health system and other locations. At Duke, there are nearly 400 university housekeeping staff members who care for offices, residence halls and more.
Catherine Hall, building manager for the Duke School of Law, said she and her colleagues are impressed and proud with their housekeepers. Hall noted that visitors often compliment on the cleanliness of the building.
"Housekeepers arrive very early in the mornings only to find messes left behind from the daily usage and special events throughout the building," she said. "They take pride in their job knowing they represent the school and all it stands for."
Among Duke's prideful housekeeping staff is Jannett Dunegan, a housekeeper specialist who works in Perkins and Bostock libraries. Dunegan said she loves working at Duke because of opportunities she's received - like taking computer classes to learn how to better use word processing programs and the Internet. Mostly, she appreciates the people she encounters.
"I meet great people every day and through them, I learn new things every day," said Dunegan, who has worked at Duke for nine years. "I love the students because I'll know them from their freshman to senior years and I can be like a second mom to them."
Faculty and staff looking for a way to recognize Duke housekeeping staff can receive employee discounts through the PERQS program, which offers discounts on food, entertainment, flower arrangements and more.