A Center Launches to Promote, Explore Health Innovation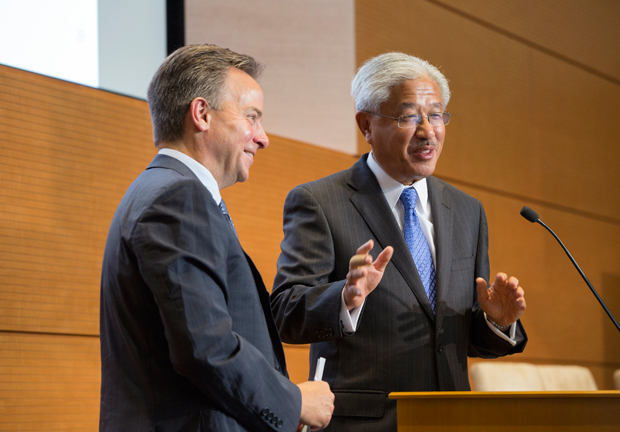 Dr. Victor Dzau, chancellor for health affairs at Duke, thanks Dr. Mark McClellan, after his keynote address at the Duke Institute for Health Innovation's inaugural summit on transformative innovation in health care Monday at the Trent Semans Center. McClellan, who led the U.S. Food and Drug Administration and the Centers for Medicare and Medicaid Services, now directs the Engelberg Center for Health Care Reform at the Brookings Institution.
The new institute, which involves several Duke schools and programs, seeks to promote innovative approaches to delivering care, training health care workers and applying technology and health policy to improve health care access, quality and affordability.
The two-day summit brought business, government and health care leaders to campus to explore the future of health care, opportunities for innovation and the possible role that Duke and other universities might play.
In his remarks, McClellan noted how he followed Dzau to Harvard and Stanford in earlier years and was now gratified to help launch the initiative at Duke. He went on to note the need for innovation across many aspects of health care -- politics as well as technology, training as well as data analysis. Like other speakers at the conference, he said there are many reasons to be optimistic about health-care reform despite current political gridlock.
Other speakers at the event included Lord Ara Darzi, chairman of the Institute of Global Health Innovation, Imperial College London; health-care economist Uwe Reinhardt, Princeton University; Sir Andrew Witty, chief executive officer of GlaxoSmithKline; Sue Siegel, chief executive officer of GE Market Innovations; and Raymond Baxter, senior vice president at Kaiser Permanente.
Photos by Shawn Rocco/Duke Medicine News Office