Cooking to Perfection
Niko Bailey has a flame for cooking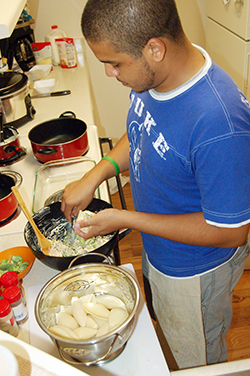 Nearly every day, Niko Bailey has a routine when he returns home from Duke: walk to the kitchen, turn on a contemporary Christian rock Internet radio station and get cooking. Literally.
Read More
Bailey's love for all things culinary has nearly turned his after-work meal preparations for family into a part-time job. He spends upward of 90 minutes each day making meals from scratch for his wife, son or extended family, including sushi, chef salads with buttermilk dressing and lasagna made with about 30 different ingredients. Along with time spent cooking, Bailey estimates he spends about five hours a week researching recipes and creating his own ideas.
"There's a certain level of calmness you find through it, and you realize it's not a job to make food, it's a passion," said Bailey, an IT analyst with the Office of Information Technology's Enterprise Systems and Support. "Once you can get that level of calmness inside yourself, you look at it not as `I have to go home and cook,' it's 'I have to go home, and I get to cook.'"
As part of weekly preparations, he'll compile a weekly list of ingredients and scour websites and mailers for coupons on items he needs. He sets a weekly budget of up to $110 on groceries, which he tracks in word documents along with a folder full of recipes on his laptop. One recipe he's been working to prefect for summer grilling is the "potato bomb," which is a potato stuffed with items like meats or cheeses.
While he's only seriously worked on his cooking skills for a few years, Bailey easily found a love for making food, including his own variety of barbecue sauces that range from flavors of smoked paprika to white wine-chipotle. Most of his cooking education comes from trial and error in his kitchen at home along with the hours he spends reading websites and watching videos. Someday, he'd like to attend culinary school.
"As long as I see everybody else enjoying my food, I'm happy," Bailey said. "It's like an artist seeing their painting in a gallery. It's success to see people enjoying what I've made."