Research Meets Romance at Durham Farmers Market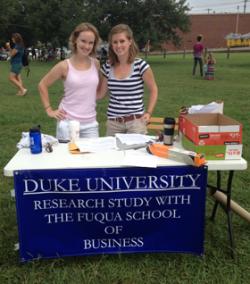 Tomatoes. Corn. Romance.
The last item was an addition to the usual fare Saturday at the Durham Farmers Market. Danielle Brick, a doctoral student at the Fuqua School of Business, set up a table where she invited shoppers to participate in her research study on how consumer decision making in romantic relationships affects other aspects of the relationships.
Brick, left, and Fuqua's Hannah Honey recruited 40 couples to share their experiences, providing insights into how decisions as commonplace as which shampoo to buy relate to bigger joint decisions, such as whether to buy a certain house.
"Today was especially enjoyable because we took the research out of the lab and into the field, where we were able to have both members of the couple fill out the survey," said Brick, a Massachusetts native. "Having responses from each partner allows us to not only compare across couples, but also within couples. In other words, we are able to examine whether one partner's perception of the relationship differs from the other partner's perception of the relationship."
Brick recruited study participants once previously at the Durham Farmers Market and also once at the market in nearby Carrboro. On Saturday, she was "inspired to see couples who have been married for 15, 20, 30 years and who are still so happy with their relationship.  I think there was even one couple who had been married for almost 50 years."
She is working on the project with Tanya Chartrand and Gavan Fitzsimons, two Fuqua faculty experts on how consumers make decisions.
"I am fascinated with relationship dynamics and with how individuals interact with one another," Brick said. "I love applying this interest to the consumer behavior domain as there are many possibilities for real-world implications. I hope this research helps people to have better relationships."
Below: Brick's sign helped recruit couples for the project at the Farmers Market.