Housekeepers Wiping Away Carbon Footprint
New steps to increase sustainability in cleaning
While Teresa McLeod used to carry a slew of different cleaning supplies and bottles, she's traveling much lighter these days.
Instead of separate liquid cleaners for glass, stainless steel or carpet, she now only carries one bottle of solution made of water mixed with salt and electrically charged through a special process. As she passes between rooms in the Fuqua School of Business, she carries a lighter load and has made her cleaning a more sustainable activity.
"I feel better now when I clean," said McLeod, a housekeeper specialist at Fuqua. "Now I just carry the water and one disinfectant."
The specialized water is from the Orbio 5000-Sc, a machine that electrically restructures water and salt to create an environmentally-friendly cleaning solution ideal for use on a variety of surfaces. It looks like any other foamy liquid, but cleans without impacting air quality.
In addition to being chemical-free, the cleaning solution is made on-site, reducing the carbon footprint by eliminating transport and packaging. Located in Fuqua, the Orbio provides ionized water for housekeepers to use in academic buildings across East and West campuses.
"There isn't anything greener than cleaning with purified and electrically charged tap water," said Albert Scott, director of grounds, housekeeping, sanitation and recycling services. "We chose to go in this direction due to our environmental consciousness and the cleaning solution's effectiveness."
The change to using Orbio water began in March, when McLeod and other housekeepers in Fuqua were part of a pilot project to test the water's cleaning ability. It was rolled out to all of Duke's academic buildings in June.
Along with the new cleaning water, housekeepers have switched to using products by Green Seal, a non-profit company that certifies cleaning liquids ideal for human and environmental health. Through the switch, the number of solutions used in university buildings reduced from 30 to 10.
In addition to new cleaning solutions, some housekeeping staff are also testing new microfiber cleaning cloths that better absorb fat and grease, attract dust and sanitizes up to 99 percent of surface contaminants. The average microfiber cloth is useable through 600 wash cycles, reducing the number of materials thrown away and replacement costs.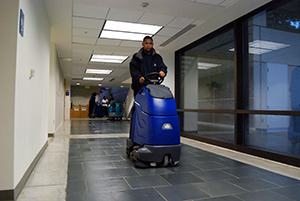 Housekeepers have begun using upright vacuums that clean more efficiently and in half the time. Photo by Bryan Roth.
Housekeepers have also rolled out 108 new upright commercial vacuums and six stand-on, riding vacuums that are "green label" certified by the Carpet and Rug Institute, meaning they remove dust from the air while cleaning carpets and are quieter than standard vacuums. Housekeepers stand being the wheel of the chariot-like machine, cutting time it takes for vacuuming in half.
"Changing to more environmental friendly solutions has helped reduce environmental footprint and promote sustainability," said Joan Songa, operations manager with Housekeeping. "With the change, we've noticed great customer satisfaction and better surface appearance in buildings."