Duke's First Responders
Duke Emergency Medical Services has served campus since 1994
A group of 20 student and employee volunteers have a new and flashy way to help out the Duke community - literally.
Last week, Duke Emergency Medical Services (EMS) began using a new vehicle to help the group that provides first-responder medical services to all of Duke's campuses, including the Medical Center. Duke EMS replaced a 2004 Chevrolet TrailBlazer for a 2013 Ford Explorer customized with reflective paint, sirens, flashing lights and more.
"It's all intended to make it high-visibility and more in line with what emergency vehicles have nowadays," said Jay Srinivasan, a Duke senior and director of Duke EMS. "We're very excited about what we do for the Duke community, and we look forward to using it for many years of service."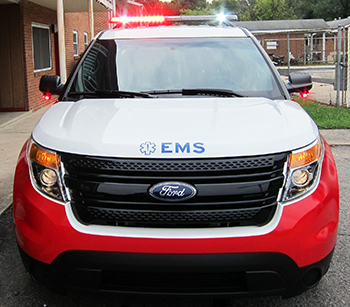 The funding for the vehicle came from the Duke University Police Department, which partners with Duke EMS. The all-volunteer force offers 24-hour coverage for emergency calls, of which they receive upward of 600 each year. Most of the time, Duke EMS personnel are able to respond within five minutes to help treat issues ranging from cardiac or chest pain to nausea or physical trauma. Each member of the staff is a trained emergency medical technician.
Through each calendar year, Duke EMS provides more than 7,200 hours of campus call service and 200 hours of service for special events. Campus call service is typically staffed by two crew members during the day and three crew members at night. Special events are typically staffed with between two and four EMTs.
Duke EMS staff offer a "basic life support" approach to their treatments and provide care for those in need until responders from Durham County are able to treat patients. Duke EMS doesn't transport patients. Care provided by Duke EMS might consist of CPR, stabilization of bones or joints or providing medicine from aspirin to epinephrine.
"If necessary, our responsibility is to keep a patient alive until Durham County EMS arrives," Srinivasan said.
Any Duke student or employee is able to volunteer with Duke EMS, although they must complete a basic certification course through Durham Technical Community College. Members begin as a "basic" EMT and can achieve levels of "intermediate" and "paramedic" by spending clinical time in a hospital, in the field and by taking additional educational classes.
For more information about Duke EMS, visit their website.