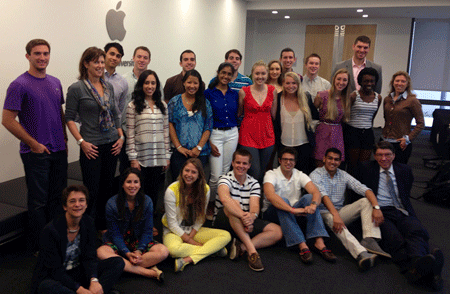 Students with Kimberly Jenkins and Matt and Clay Christensen during the first week at Duke in Silicon Valley. Photo by Amy Unell.
      Twenty entrepreneurial undergraduates spent part of their summer in the nation's hub for innovative enterprise learning about starting a business -- and about life -- from Duke alumni at Apple, LinkedIn, Facebook and Google.
Read More
The inaugural Duke in Silicon Valley (DIS), a four-week, one-credit summer program based at Apple Inc. in Cupertino, Calif., helped students apply business principles to career aspirations and personal goals. The program will be offered again next year.
"It's hard to describe the warm, enthusiastic reception from our alumni, many of whom gave generously of their time when talking with our students, touring us around their companies and offering students internships," said Kimberly Jenkins, who created DIS with Emma Rasiel, an economics professor. The Global Education Office for Undergraduates, Pratt School of Engineering, and the Duke Office of Innovation and Entrepreneurship, directed by biochemistry professor Eric Toone, also provided substantial support and direction.
"There's tremendous pride in Duke in Silicon Valley and our alumni couldn't be more enthusiastic about Duke students taking a serious interest in working there," said Jenkins, a Duke alumna and former trustee who led Microsoft's Education Division and ran market development at NeXT, a technology start-up company founded by Steve Jobs.
A highlight included course instruction from Clayton Christensen, a noted Harvard business professor and author of "How Will You Measure Your Life," Christenson originated the concept of "disruptive innovation," in which new groups of consumers gain access to commodities that historically were available only to consumers with lots of money or skill. Christensen's son Matt, a starting member of Duke's 2001 championship basketball team and a founder of Rose Park Advisors, a Boston-based hedge fund, shared his expertise in identifying and applying disruptive innovation frameworks.
"DIS really unlocked a sort of entrepreneurial bent in me," said Marion, a computer science major who aspires to attending business school after his summer at Apple University." -Michael Marion
The 20 undergraduates gave the program rave reviews, especially for the time allotted to self-reflection on personal strengths, weaknesses and career and life aspirations.    
"DIS really unlocked a sort of entrepreneurial bent in me," said Michael Marion, a junior majoring in computer science major with a minor in psychology. "I've always had a really broad array of interests and have had trouble picking just one. I'm interested in technology and software development, certainly, but I also like solving problems through design, art and photography."
Marion said he now aspires to attend business school.
 "There's a focus in DIS on helping students use these lessons to clarify and pursue the path they want to take both professionally and personally," Marion said. "The program gave me a much clearer understanding of who I am and what I want to do with my life. The variety of cases we covered in class showed me that in order to be successful in business, you must be able to synthesize knowledge from a variety of industries and situations."
Space in Duke in Silicon Valley 2014 is limited. Applications open in late fall with a rolling admissions deadline of Feb. 1. Find out more on the Global Education site.  Read student impressions on  the 2013 student blog.