Construction Highlights Duke's Summer
About a dozen major projects - and smaller ones - are taking place
Duke was busy this summer and will stay that way into the fall, with about a dozen major construction and renovation projects across campus.
That includes a variety of efforts like a sustainable reclamation pond on West Campus and upgrading campus utilities with new chilled water lines along Campus Drive. Buildings have been a large part of this summer's work, with renovations ranging from West Campus' Gross Hall to East Campus' Baldwin Auditorium taking center stage.
Read More
Last year's capital budget included $110 million for major projects to enhance Duke's campus and buildings and as Duke readies for students to return, the Facilities Management Department is close to the finish line with several major projects.
"Those who have been on campus in recent years will notice the huge transformation of buildings like Gross Hall and Baldwin Auditorium, but new construction like the Events Pavilion add new life to our footprint," said John Noonan, vice president for Facilities. "It's part of our continued effort to grow as part of planning for Duke's future."
Baldwin Auditorium
Among the first projects to be enjoyed by Duke community members and the public will be the unveiling of a newly renovated Baldwin Auditorium. The 85-year old performance venue began a complete facelift last summer and will reopen for the fall season Sept. 14, when the Department of Music presents a faculty gala chamber music concert.
Duke Performances will present more than 20 events next season in Baldwin, which will also become the home for Duke's symphony orchestra, wind symphony, chorale and jazz ensemble.
"With the renovation of Baldwin Auditorium, Duke will at long last have a first-rate concert hall that is dedicated to presenting our student music ensembles, our distinguished faculty musicians, and the internationally acclaimed artists presented each year by Duke Performances," said Scott Lindroth, professor of music and vice provost for the arts at Duke.
Some of Baldwin's upgrades include a larger stage, more efficient air conditioning for performers and audience and enhanced acoustics that will allow for the space to be "tuned" to each individual performance.
Events Pavilion
As music lovers benefit from Baldwin's changes this fall, students will be sitting down to enjoy meals at the newly opened Events Pavilion on West Campus.
Crews finished up construction on the Events Pavilion in August. It will act as temporary dining space during West Union renovations. Photo by Bryan Roth
Bill McCraw, Facilities Management's manager for the projects, said the 25,000-square feet Events Pavilion is on schedule to serve students as they begin to return this week.
The Events Pavilion will serve as temporary dining space while the West Campus Union undergoes major renovations
Students, faculty and staff will be able to eat at the Events Pavilion, which will house seven new venues to include a variety of foods from southwestern or comfort foods to pizza, pasta, soups, salads and grab-and-go options. The building's main level will provide plenty of natural lighting, as it's encased with a unique glass design.
"The new space will provide a picturesque dining experience with beautiful wooded views through the floor to ceiling windows," said Kirsten Marinko, marketing manager for Duke Dining. "It will also provide easy access to the Bryan Center and compliment several other dining options along The Plaza."
Once the West Union is completed in 2016, the Events Pavilion will become a meeting and events space for campus use.
West Union
As the Events Pavilion readies to open, renovations to the West Union renovations have just begun.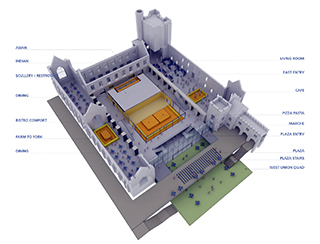 This artist rendering shows what the plaza level will look like once West Union renovations are complete.
The estimated demolition phase of the project will run through February 2014 with construction lasting an additional two years. When finished, contractors will have renovated more than 110,000 square feet inside the eight-decade-old building.
During renovations the DukeCard office will be relocated to the OIT-Telecommunications Building between Bostock Library and the Fitzpatrick Center for Interdisciplinary Engineering, Medicine and Science. Other relocations include the Duke Barber Shop going to the lower level of the Bryan Center. Chick-fil-A and Alpine Bagels will be closed.
During construction, Duke has installed a special wrap around construction fencing to mimic the appearance of Duke stone. About 1,000 feet of the fence will remain around West Union and Perkins Library for about 30 months.
Gross Hall
Duke community members will also have a renovated place for learning and research at Gross Hall, which completes a three-year renovation project this month. About 125,000 square feet was updated, with a large portion of work dedicated to new lighting and windows, including a skylight.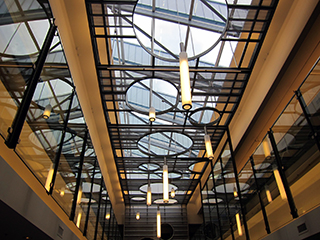 One of the biggest changes for Gross Hall is the addition of natural lighting. Photo by Bryan Roth.
"Before, there were very small windows all around the building, but we've replaced them and added a new wall of glass that faces Towerview Drive," said Myron Taschuk, Facilities' project manager for Gross Hall.
Increased sunlight means the 45-year old building is more energy efficient thanks to windows that allow light and heat in and better insulation to trap warm or cool air. Newly installed, energy efficient fans in Gross' heating and cooling system also help reduce energy costs.
"We hope these kinds of changes make time in Gross better for students and employees," Taschuk said. "It was originally scheduled to be demolished years ago, but we've updated it into a great, new space."