Scholars from across the university have been refining their research, framing their arguments and polishing their memoirs on the way to authoring books from the development of modern art to the birth of the prosperity gospel. Many of these new titles can be found on the Duke authors display shelves near the circulation desk in Perkins Library and some are available as e-books for quick download to your computer. Most of these titles can also be purchased through the Gothic Bookshop, which is still filling orders for books even while undergoing renovations.
[Duke Today will provide similar updates in the future. If you are a member of the Duke faculty or staff who will be publishing a book of interest to a general audience, please send us a message about it along with your publisher's description.]
Read More
Bowler, Kate: "Blessed: A History of the American Prosperity Gospel" (Oxford University Press)
How have millions of American Christians come to measure spiritual progress in terms of their financial status and physical well-being? Divinity School assistant professor Kate Bowler's "Blessed" is the first book to fully explore the origins, unifying themes and major figures of a burgeoning movement variously called Word of Faith, Health and Wealth, Name It and Claim It, or simply prosperity gospel.
Bowler talked about the book with BBC Radio 4.
Dorie Clark: "Reinventing You: Define Your Brand, Imagine Your Future" (Harvard Business Review Press)
Clark, a branding expert, Forbes columnist and adjunct professor of business administration at The Fuqua School of Business, offers advice for building a career that thrives on your passions and talents. Clark mixes personal stories with examples from well-known personalities -- Mark Zuckerberg, Al Gore, Tim Ferriss, Seth Godin and others.
John M. Clum, editor: "Gay Drama Now: An Anthology" (Cambria Press)
Clum, professor emeritus of Theater Studies and English, edited this collection of seven contemporary American plays (six of them by gay playwrights) that depict the lives of gay men in the years before gay liberation and in our own time.
Dr. Allen Frances: "Saving Normal: An Insider's Revolt Against Out-of-Control Psychiatric Diagnosis, DSM-5, Big Pharma and the Medicalization of Ordinary Life." (William Morrow)
Frances, professor emeritus and former chair of the department of psychiatry and behavioral science at Duke School of Medicine, warns that mislabeling everyday problems as mental illness has shocking implications for individuals and society. Frances chaired the committee that produced the previous diagnostic bible for psychiatry, the DSM-IV.
Mitu Gulati, co-author: "Acting White?: Rethinking Race in Post-Racial America" (Oxford University Press)
Gulati, a leading scholar of race and the law, and Devon Carbado, a colleague at UCLA, argue that in spite of decades of racial progress and the pervasiveness of multicultural rhetoric, racial judgments are often based not just on skin color, but on how a person conforms to behavior stereotypically associated with a certain race. They preview a theme in their book in this Huffington Post commentary.
Dan Heath, co-author: "Decisive: How to Make Better Choices in Life and Work" (Crown Business)
Dan Heath, a senior fellow at Fuqua's Center for the Advancement of Social Entrepreneurship, and his brother, Chip, a professor at the Stanford Graduate School of Business, uses examples from rock music to corporate board rooms to discuss how to make better decisions. "Decisive" is "witty and winning" look at resolving thorny decisions.
James A. Joseph: "Leadership as a Way of Being"
Joseph, emeritus professor of the practice at Duke's Sanford School of Public Policy and a former U.S. ambassador to South Africa, shares leadership lessons he learned from observing Nelson Mandela when Mandela was president of South Africa.
The book is based on presentations he made to classes who came in for the programs he ran through the U.S.-South Africa Center for Leadership and Public Values. The book is available by special order.
Richard Lischer: "Stations of the Heart: Parting with a Son" (Alfred A. Knopf)
Divinity School Professor Lischer describes the spiritual lessons he learned from his son, Adam, during the 95 days after the young man tells him his cancer had metastacized. The Toronto Star calls Lischer "a fine writer -- self-aware, humorous and unstinting in describing the outrage of a son dying before his father."
Patricia Leighten: "The Liberation of Painting: Modernism and Anarchism in Avant-Guerre Paris" (University of Chicago Press, June 2013)
Leighten, a professor of Art History & Visual Studies, argues that anarchist aesthetics and a related "politics of form" played crucial roles in the development of modern art, only to be suppressed by war fever, and then forgotten. She examines the aesthetic choices of a circle of artists -- Pablo Picasso, Juan Gris, Frantisek Kupka, Maurice de Vlaminck, Kees Van Dongen and others.
Jody McAuliffe: "The Mythical Bill: A Neurological Memoir" (University of Iowa)
Part medical mystery, part war story, and part social and family history, "The Mythical Bill" is the story of how one man's physical and mental pain radiates outward into the life and mind of each member of his family. Weaving together diary entries, correspondence and research, playwright and Theater Studies chair Jody McAuliffe examines her father's life before, during, and after WWII, seeking answers to the questions of what caused his disintegration.
In a Q&A with The Chronicle's Shangnon Fei, McAuliffe talked about her inspiration for the book.
Jehangir Malegam: "The Sleep of Behemoth: Disputing Peace and Violence in Medieval Europe, 1000/1200" (Cornell University Press)
An assistant professor of history, Malegam explores the emergence of conflicting concepts of peace in Western Europe during the High Middle Ages. Out of this contest over the meaning and ownership of true peace, he concludes, medieval thinkers developed theologies that shaped secular political theory in the later Middle Ages.
Kari Lock Morgan, co-author: "Statistics: Unlocking the Power of Data" (John Wiley & Sons)
Kari Lock Morgan, an assistant professor of the practice in statistical science at Duke, joined her parents and two younger siblings in writing this teaching text, which focuses on conceptual understanding by using intuitive methods to arrive at the same answers traditionally reached by plugging numbers into formulas. The idea for the Lock family statistics book first began as a joke, Duke Today reported, but a conference talk led the family to turn the idea into a book.
Negar Mottahedeh: "Abdu'l-Baha's Journey West: The Course of Human Solidarity" (Palgrave Macmillan)
This new volume, edited and introduced by Negar Mottahedeh, an associate professor of Literature and Women's Studies, explores the life of early 20th century Iranian visionary and reformer – the eldest son of the founder of the Bahai faith -- and his influence on the early civil rights and suffrage movements in America. His prescription for a lasting peace came only three years before the outbreak of WWI.
Mottahedeh talked about the book in this Q&A with ISLAMiCommentary.
V.Y. Mudimbe, editor: "Contemporary African Cultural Productions" (Codesria book series)
Mudimbe, a professor of literature, examines an explosion in the arts in Africa -- "a robust outpouring of creative power that is as remarkable for its originality as its all-round diversity."
Jean Fox O'Barr: "Transforming Knowledge: Public Talks on Women's Studies, 1976-2011." (She Writes Press)
This collection of essays from The Program in Women's Studies founding director offers an archive of thinking about feminism, women's studies, and the transformation of knowledge over the years. O'Barr also reflects on her personal and professional journey, paralleling the growth of the women's movement and the development of women's studies.
Jocelyn Olcott: "A Happier Marriage? Feminist History Takes the Transnational Turn" in Making Women's Histories ed. Pamela S. Nadell and Kate Haulman. (New York University Press)
Olcott, an associate professor of history, contributes a chapter about how current scholarship combines approaches from transnational and feminist history to offer new perspectives on some of historians' core analytical categories.
Dr. Thomas Polascik, editor: "Imaging and Focal Therapy of Early Prostate Cancer" (Humana Press: Current Clinical Urology Series)
Polascik, a Duke urology professor, has investigated the use of focal prostate cancer therapy to treat prostate cancer without removal of the entire prostate. In this volume, contributors provide insight into the latest clinical applications of image-guided diagnosis and treatment.
Tom Rankin, co-editor: "One Place: Paul Kwilecki and Four Decades of Photographs from Decatur County, Georgia" (University of North Carolina, in association with the Center for Documentary Studies)
Rankin, outgoing director of the Center for Documentary Studies (CDS), has written the introduction to this deep reflection on one artist's depiction of his community. An interview with Rankin accompanies a CDS slideshow. An exhibition of Kwilecki's work is also on display at CDS until July 27.
Carlos Rojas, translator: Yan Lianke's Lenin's Kisses (Grove/Riverside)
Rojas, a professor in the Department of Asian & Middle Eastern Studies, is the translator of Chinese writer Yan Lianke's novel about a modern-day mountain village that starts a traveling performance troupe to raise money. Lianke, whose works often challenge his country's censorship system, delivers a humorous portrait of the trappings and consequences of greed and corruption at the heart of humanity.
Carlos Rojas and Eileen Cheng-yin Chow, co-editors: "The Oxford Handbook of Chinese Cinemas." (Oxford University Press)
Rojas and visiting associate professor Eileen Chow, present 33 essays by leading researchers and scholars that cover topics from the industry's beginnings in the 1920s up to its current forms in contemporary Hong Kong, Taiwan and the global diaspora.
William H. Schlesinger and Emily S. Bernhardt: "Biogeochemistry: An Analysis of Global Change" Third edition.
Schlesinger, the James B. Duke Professor Emeritus of Biogeochemistry and former dean of the Nicholas School, and Bernhardt, an associate professor of biogeochemistry, consider how Earth's chemical makeup have been and are being affected by the existence of life and human activities in particular.
Dr. Robert Schultz: "Autobiography of a Baby Boomer" (Light Messages)
Schultz, who serves on the teaching faculty in the Department of Orthopaedics, tells the story of his quest for meaning during the early 1970s, an overland journey through Europe, North Africa and the Middle East.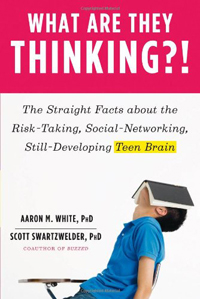 Scott Swartzwelder, co-author: "What Are They Thinking?!: The Straight Facts about the Risk-Taking, Social-Networking, Still-Developing Teen Brain" (W.W. Norton & Co.)
Scott Swartzwelder, a professor of psychiatry, psychology and neuroscience, joins former Duke colleague and current National Institutes of Health faculty member Aaron White in reviewing the latest developments in adolescent brain research on teen behavior. The scientists illuminate the complexities of issues such as school, driving, social networking, video games and mental health in kids whose crucial brain connections are just coming online.
Kate Thieda: "Loving Someone with Anxiety" (New Harbinger)
Thieda, a counselor in Women's and Children's Services who specializes in helping the partners of those with mental illnesses, has advice to keep anxiety from sabotaging a relationship. She explains why taking over roles that make your partner anxious can be extremely damaging for the both of you.
Robert J. Thompson, editor: "Changing the Conversation About Higher Education" (R&L Education)
Robert Thompson, a professor in the department of psychology and neuroscience and former dean of Trinity College of Arts and Sciences, focuses on research at 13 universities aimed at systematically improving undergraduate education.
Gianni Toniolo, editor: "The Oxford Handbook of the Italian Economy Since Unification"(Oxford University Press)
Toniolo, a research professor of economics at Duke, has edited the first comprehensive, quantitative "new economic history" of Italy. The research, conducted by a large international team of scholars, addresses the reasons for the current failed response of the Italian economy to the ongoing "second globalization."
Amy E. Unell: "Starting at the Finish Line: Coach Al Buehler's Timeless Wisdom" (Penguin/Perigee Books)
Unell, a Duke alumna and guest lecturer at Duke's Sanford School of Public Policy, authored this companion book to the documentary about Duke's legendary track coach, who has continued to influence Olympians Carl Lewis, Jackie Joyner-Kersee, John Carlos and Joan Benoit Samuelson.
Kathryn Whetten-Goldstein, Brian Wells Pence: "You're the First One I've Told: The New Faces of HIV in the South" Second Edition, Revised. (Rutgers University Press)
In this revised second edition, Whetten, a professor of public policy and global health, and Pence, an associate professor of community and family medicine and global health, incorporate research from their recent study, "Coping with HIV/AIDS in the Southeast," which includes 611 HIV-positive patients from North Carolina, South Carolina, Georgia, Alabama and Louisiana.
William H. Willimon: "Sinning Like a Christian: A New Look at the 7 Deadly Sins" (Abingdon)
The seven deadly sins are a well-known topic, but not much has been written about them in recent years from a serious theological viewpoint. Willimon, a former United Methodist Bishop and dean of Duke Chapel who has returned to Duke as a professor of the practice of Christian ministry, takes an unflinching look at the meaning and substance of sin.
Lawrence Zelenak: "Learning to Love Form 1040: Two Cheers for the Return-Based Mass Income Tax" (University of Chicago Press)
No one likes paying taxes, much less the process of filing tax returns, but law professor Zelenak argues that the return-based taxation method can strengthen fiscal citizenship. He also offers suggestions for how the current system could be substantially simplified to better serve its civic purpose.