A few years ago in a top New York City fashion design firm, Ellen Urbanowicz sat across the table from Generation Y pop stars Jessica and Ashley Simpson, whose "Tween" clothing line was all the rage. Urbanowicz -- then age 24 -- and fellow designers were charged with keeping the label fresh and edgy.
Urbanowicz had been in New York just a couple of years and had steadily risen up the ranks at The Jones Group. The New Jersey native was living in Manhattan and reveling in the excitement that the city and her demanding job provided. She was on her way to fulfilling a childhood dream of becoming a famous fashion designer -- going from making clothes for her dolls to designing them for the stars.
One Friday night about a year later, while working on a line of clothes for Macy's, a moral realization struck her. "We were at the office until 11 p.m. and people were freaking out about hem lengths and zippers. It made me think: This is just clothing. It's not a life and death situation. I really felt I had lost touch with who I was and did not want to live the rest of my life like that."
Meanwhile, near Venice, Italy, 23-year old San Diego native Anna Gonzales was making a good living as a professional water polo player. She traveled to new and interesting places and enjoyed free time with friends on sunny beaches. "It was a pretty good life," she says. "I got to see a part of the world I never thought I'd get to see, and get paid to do what I loved."
One problem, though: Gonzales knew that her time as a professional athlete was limited. Age and a recurring shoulder injury would eventually force her to quit, she reasoned. Gonzales sought a more substantive, rewarding future.
When an offer came to join a different professional water polo team -- this one in Greece -- she said no. "It was time to actually start my life," she says.
For Urbanowicz and Gonzales, the choice for new careers was clear: Nursing.
Career Reboot
Nursing as a second career is a growing trend in the United States and at Duke. That's documented, in part, by the explosive growth of nursing schools offering accelerated bachelor of science in nursing (ABSN) degree programs, which require students to already have earned bachelor's degrees, the majority of which are in non-health care disciplines.
The American Association of Colleges in Nursing (AACN) reports that in 1990, just 31 ABSN programs existed in the United States. Today there are about 250.
Duke University School of Nursing has enrolled former architects, teachers, business owners, and the like into its programs. Like Urbanowicz and Gonzales, some have renounced established careers that they found unrewarding. Nursing, they said, provides them with deep personal richness, humanitarian value, flexibility, and long-term stability.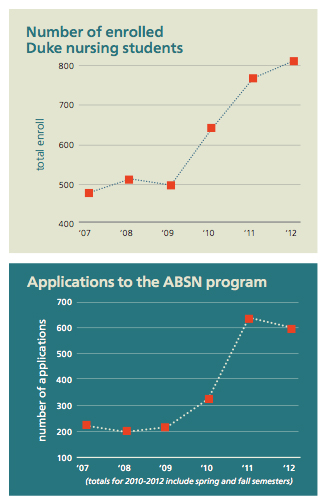 The School of Nursing's overall enrollment has nearly tripled in the last 10 years, growing from 398 full-and part-time students in 2003 to today's 844. The current average age of all Duke nursing students is 34, for ABSN students it's 28, further indications that women and men are rebooting their professional lives mid-career.
It makes for a diverse student cohort with myriad life experiences entering the workforce.
"For many recent college graduates and established professionals, nursing is attractive since it allows them the opportunity to obtain both personal and professional satisfaction -- something frequently cited as missing in other jobs and professions," says Michael Relf, the School of Nursing's assistant dean of undergraduate education.
Applications to all Duke University School of Nursing programs have more than tripled since 2007, when 453 prospective students applied. For the 2012-2013 school year, there were 1,398 applications.
According to the Online Journal of Issues in Nursing (OJIN), nursing students identified caring for others and contributing to the well-being of society as a major component of their decision to become nurses.
That certainly is true for Kevin Momber, a former paralegal at a large Philadelphia law firm. The current student in Duke's Master of Science in Nursing degree program says he became disenchanted working in the legal system because "it felt like I was trying to game the system to make a lot of money for the firm's partners. It was soul crushing. It wasn't purposeful and meaningful. I knew I didn't want to go on to law school."
Over the past 10 years, men have made up 10 percent of the nursing student population at Duke, compared to the national average of 6 percent. The number of male nursing students in all of Duke's nursing programs grew from 39 in 2003 to 107 this year. The AACN says the number of men entering nursing is slowly but steadily increasing.
After leaving the law firm, Momber returned home to Grand Rapids, Mich., and ran into a male friend who recently had completed an ABSN program there, was working as a nurse, and loved it.
"It was like a light bulb went on for me," Momber said. "I didn't grow up around nurses, so it wasn't even on my radar. But I realized this is exactly what I wanted to do. I knew it would allow me to give back in so many ways."
He earned an ABSN degree in Michigan, then was hired at Duke University Hospital in the Pediatric Intensive Care Unit.
"I chose Duke because I knew I would want to go back to school at some point, and I wanted to work at a big, respected medical center," he said. "Being a nurse is so gratifying to me."
After three years in the Pediatric ICU, Momber, now age 30, decided to specialize in anesthesiology and enrolled in the School of Nursing's certified registered nurse anesthetist program. "I like having that kind of responsibility," he says. "You're at the head of the bed during surgeries helping to keep the patient alive. That really appeals to me." He has one year left in the program.
R. John Repique, a student in Duke's Doctor of Nursing Practice degree program, is vice president, chief administrative officer, and chief nursing officer for Mental Health Services at Jackson Health System in Miami. He comes to the Duke campus once a semester.
Unlike Momber, Repique was called to nursing at an early age.
"I've always been a nurse," he said. "I came from a family of nurses. What I love about nursing is its focus on caregiving."
Born and educated in the Philippines, he arrived in the U.S. in the early 1990s when a nursing shortage had hospitals recruiting overseas to fill positions. Repique worked at a state psychiatric hospital in Georgia for two and a half years, then became a psychiatric nurse in Maryland, where he earned a master's degree at the University of Maryland.
From 1994-2000, Repique worked at Johns Hopkins, and in 2001 he moved to New York City to become a nurse manager, then director of behavioral health nursing/quality at New York Presbyterian/Weill Cornell Medical Center until 2008, when he moved to Miami and became Jackson's first chief nursing officer for behavioral health services.
Seeking further personal and professional growth, Repique enrolled in Duke's DNP program in 2011.
"I'm passionate about social and health policy issues," he said. "In my current position I get to engage the community about mental health issues and access to care. I want to do more of that, and I hope to inspire younger nurses."
More Energy and Focus
The OJIN also reports that nursing school administrators said second-career nursing students typically bring a higher energy level and intensity of focus to their studies than younger students. They seek out challenges at work and are well suited to problem solving.
For former elementary school teacher Randi Simpkins, who graduated from Duke's ABSN degree program in May, facing new challenges while serving others was a major motivator for her career change.
"Teaching was very fulfilling to me," the 40-year-old mother of two teenagers says. "I think it came natural to me. I always challenged my students to push themselves to do more, but I got to the point where I wasn't pushing myself."
After nine years of teaching in Philadelphia, then Charlotte, she began exploring nursing. "Before long it was a no-brainer," she says. "I knew that if I was going to become a nurse I needed to be an astute, efficient, and competent nurse. Duke was the only school I applied to, and my expectations have been surpassed."
While Simpkins initially set out to "go outside my comfort zone and not work with children," she eventually realized that pediatric nursing was her calling.
"Working in the clinical setting showed me that I have a natural ability with children," she says. "I love them all -- babies, toddlers, teenagers." She hopes to stay at Duke and eventually continue her nursing education, possibly to become a nurse practitioner.
Unlike Simpkins, Urbanowicz, the former fashion designer, grew up surrounded by nurses, making her second career choice seem more direct. Her mother is a school nurse, and three of her aunts also are nurses. But it wasn't until she helped to take care of her ill grandparents before they passed away that the seed of nursing as a career was planted. It germinated after leaving the fashion world.
Gonzales earned an undergraduate degree in kinesiology, and nursing was always an option she considered. She became interested in oncology after one grandfather died of leukemia and the other died of esophageal cancer. One of her grandmothers died of ovarian cancer. She started in Duke's ABSN program in Fall 2012.
"I'm interested in pediatric oncology but am open to a lot of things," Gonzales said. "In this program you're thrown into a lot of different situations. I've thought about emergency room medicine or becoming a nurse anesthetist. There are just so many broad categories I can go into."