Married in the Heart of Duke
A ceremony in Duke Chapel is a benefit of belonging to the Duke community
Robin Ratchford pushed open the heavy oak door and stepped into the 80-year-old Duke Chapel. She climbed the grey limestone steps into the nave of the sanctuary and marveled at the soaring 73-foot tall ceiling and glowing ruby, blue and gold of the stained glass window behind the altar.
It was love at first sight.
Read More
"As soon as I stepped into that space, I knew I wanted to get married there," said Ratchford, a financial analyst for Duke Medicine. "The beauty of it was almost overwhelming."
Not everyone can exchange vows in the heart of Duke. Only full-time staff, faculty, students, alumni and members of the congregation at Duke Chapel can book a wedding or commitment ceremony for themselves or their children. About 6,000 couples have been married in the Chapel since Marion Noell Lyon, grandniece of James B. Duke, exchanged vows in the Chapel's first nuptials on April 8, 1933. Each year, about 100 weddings are conducted in the Chapel, and roughly a quarter of them involve Duke employees or their family members.
"It's a unique workplace benefit, the opportunity to have a wedding in one of the most beautiful gothic chapels in the United States," said Luke Powery, dean of Duke Chapel.
Other campus locations provide space for weddings, but Duke Chapel offers grandeur, tradition and the services of a well-practiced team to ensure a worry-free day. The Chapel is so popular that people camp out a year in advance to claim their special day for $2,100.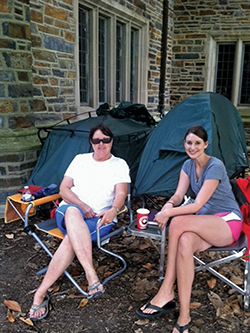 Robin Ratchford, right, and her mother, Gloria, slept in tents for four nights on West Campus Quad to be first in line to reserve the Chapel in September 2013. Photo courtesy of Robin Ratchford.
Sleeping on the Quad
Ratchford was determined to be first in line to get a day in September for her 2013 wedding. A little more than a year in advance, on Friday, August 31, 2012, she and her mother set up two tents on the Quad and dug in for four nights in the shadow of Duke Chapel. That first night, they fell asleep to salsa music on the Chapel steps by Sabrosura, a student dance troupe.
The next morning, as they relaxed in camp chairs and read Bridal Guide Magazine, another couple arrived with a tent. "We introduced ourselves, and the very next question was `what date do you want?' " said Ratchford, who joined Duke in 2011. "Thankfully, they didn't want September 21, which was the date I had in mind."
As the day progressed, the campers swapped ideas about wedding dresses and flowers and took turns making food runs to The Loop Pizza Grill. When a storm blew in Saturday evening, they sipped coffee together in the Bryan Center and waited for the rain to stop. After midnight, Ratchford and her mother returned to their tents and attended worship in Duke Chapel on Sunday morning. By the time the Chapel opened for reservations at 8:30 a.m. that Tuesday, there were four couples in line, but none wanted Ratchford's day.
"In hindsight, I didn't have to tent, but I figured getting married at Duke was a once in a lifetime opportunity, and I wasn't going to leave it to chance," Ratchford said. "Camping was a powerful way to create memories and meet amazing people."A "Majestic" Space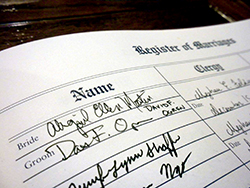 Abigail Martin and David Ogren added their names to Duke Chapel's registry of marriages, which dates to 1933.
Abigail Martin stood at the rear of the Chapel and peered down the 150-foot long aisle - half the length of a football field - to her fiance, David Ogren, near the altar. Holding tight to her father's arm, she began the walk to the strains of Pachelbel's "Canon in D." Her eight-feet-long veil unfurled as she walked. "In a space that majestic, you need something to help you feel bigger," said Martin, a pediatric surgeon at Duke who married on Dec. 15, 2012.
Martin has worshiped at the Chapel as part of the Chapel Congregation ever since her arrival in Durham three years ago.
"We never imagined getting married anywhere other than the Chapel," Martin said. "It is my spiritual home."
The couple's names are now in the Chapel's registry of marriages, along with other Duke community members like Chris Duhon, a member of Duke's 2001 national championship basketball team. The Chapel is currently on its third registry; the first two are in Duke's archives.
Originally, Duke Chapel was open to the public for weddings. But in 1974, faced with increasing demands for University events in the Chapel, Duke limited weddings to Duke community members.
A non-denominational place of worship, the Chapel welcomes same-sex unions and weddings of any faith. Blanche Williams, a wedding director at the Chapel for eight years, recalled Catholic, Protestant, Eastern Orthodox and Jewish unions. "We had one Jewish wedding where the groom had the Duke logo on his yarmulke," she said.
John Foust, a member of the Chapel Congregation, celebrated his commitment ceremony to Wayne York in Duke Chapel on Aug. 1, 2009. Long-time members of the Duke Chapel Choir, they had 110 volunteers from the choir join the celebration.
"I've dreamed of a big church wedding all my life," said York, a support analyst for the State Employees Credit Union in Raleigh. "Duke Chapel is a special place with special music and having our ceremony there was a dream come true."
Powery, the Chapel dean, said the inclusiveness of the Chapel is an important reflection of Duke's values as an institution. "Duke Chapel tries to embody the wide and generous ecumenical tent of God's eternal love," he said. "Thus, all are welcome to be married in this sacred space.""My Heart is here at Duke"
Todd Owens, information specialist for the DukeCard Office, escorts his daughter, Courtnie, down the aisle in Duke Chapel for her July 14, 2012 wedding. Photo courtesy of Courtnie Estave.
With his daughter well into wedding planning and eyeing a vineyard, Todd Owens reminded her that because he worked at Duke, the Chapel was a possible venue for the celebration. His daughter, Courtnie, toured the Chapel with her fiance, and they decided to change plans and hold the wedding at the Chapel on July 14, 2012, just a few months away.
Owens, an information specialist for the DukeCard Office, was afraid that on short notice, her date would be unavailable. When he called the Chapel, the wedding coordinator confirmed that July 15 was open. He immediately hung up the phone, walked across the Quad to the Chapel and paid the $500 down payment. He was delighted to discover that because he is an hourly-paid staff member, the cost was discounted from $2,100 to $1,600.
A few weeks later, Owens dropped by the Chapel while his daughter was choosing music with the chapel organist. As the organist played passages from processionals such as Pachelbel's "Canon in D" and the popular "Bridal Chorus," Owens wiped away tears.
Now, nearly a year later, he still chokes up when he passes the Chapel and thinks of his radiant daughter walking down the aisle. "I grew up here in Durham, and my heart is here at Duke," he said. "It doesn't get any better than having my daughter married at the Chapel."