Duke In Pics: Demolition of the 'Graffiti Bridge'
Demolition began this week on the West Main Street bridge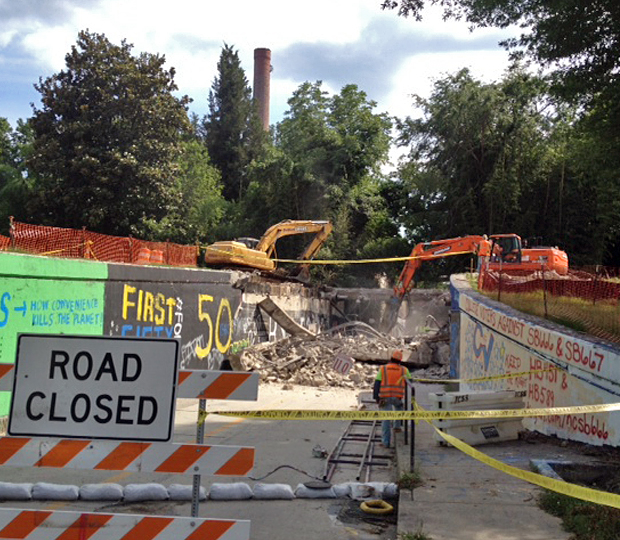 Demolition began this week on the West Main Street bridge, which is also known on Duke's campus as the "graffiti bridge" for its painted signs, symbols and words.
The North Carolina Department of Transportation project involves demolishing and rebuilding the 63-year-old bridge over Campus Drive, the main artery connecting East and West campuses. Most of the concrete wall on both sides of the Campus Drive underpass is expected to remain. The $1.9 million project is scheduled to be complete in October.
The new concrete bridge will be 45-feet wide and more modern with a bronze railing, which will also improve safety and bicycle access.
During bridge demolition, the underpass at Campus Drive will be closed in both directions to pedestrian and vehicle traffic. Duke buses and vehicles that usually take the underpass will be re-routed along Maxwell Street and Buchanan Boulevard (see this map.) At Buchanan and West Main Street, vehicles and the C2 Duke buses will be permitted to pass through the barricades at West Main Street to enter and exit East Campus through Campus Drive off West Main Street.
After bridge demolition is complete, which is expected to be a few weeks, the underpass will open and the intersection at West Main Street and Buchanan Boulevard will close again to westbound traffic.
Photo by Floyd Williams, Duke Facilities Management