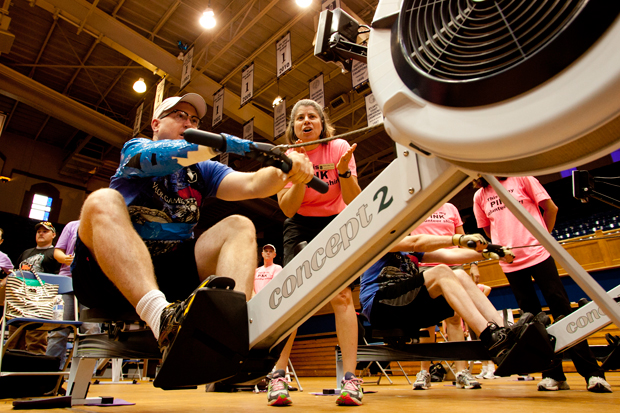 Duke biomedical engineering graduate student Jon Kuniholm, a Marine Corps reservist who was wounded during the Iraq war, throws his strength into the rowing competition Wednesday during the first Triangle edition of the Valor Games.
Cheering Kuniholm on is his volunteer coach Donna Lisker, associate vice provost for undergraduate education.  The three-day Paralympic competition involved more than 100 injured or ill active-duty military personnel and disabled veterans in events such as archery, volleyball, table tennis and cycling.
Organizers said the games give veterans and active-duty service members to stay active and connect with each other.
The tournament was held at UNC-Chapel Hill and Duke and concludes today at the N.C. State Fairgrounds.
The U.S. Department of Veteran Affairs and private sponsors fund the games, which originated in Chicago in 2011 and are being held in four regions nationally this year. Durham-based Bridge II Sports was the lead sponsor for the Triangle games. Jennifer Swenson, one of the Duke volunteers, said the university provided volunteers and equipment as well as hosting Wednesday's events. The Duke women's rowing team supplied the indoor rowing equipment.
To read a story from the Durham Herald, click here.  To see coverage from WRAL-TV, click here.
Photos by Les Todd/Duke University Photography