Commencement a Big Day for Staff, Too
Behind the scenes, staff members are busy preparing for graduation
As thousands of visitors descend onto campus for Duke's 161st commencement this weekend, hundreds of Duke employees are making sure things go off without a hitch.
Starting in April, Duke staff began preparing for events from Friday through Sunday. Whether it's sprucing up campus or arranging catering, Duke employees have come together in a team effort to make things run smoothly and efficiently.
"There's no day in the life of a campus community more important and enjoyable than Commencement Day," said Larry Moneta, vice president for Student Affairs who will bid farewell to 3,216 graduating students. "What culminates in a brief but exciting weekend results from careful coordination, an army of employees and their undaunted determination."
Here's a glimpse into some "behind the scenes" work for commencement:
Beautifying Campus
Crews from Duke's Facilities Management Department began preparations in late April, said Scott Thompson, superintendent of grounds.
Staff replaced wilting winter flowers with 14,000 spring seasonal varieties like petunias, begonias and zinnias. They also laid down 580 cubic yards of mulch across campus.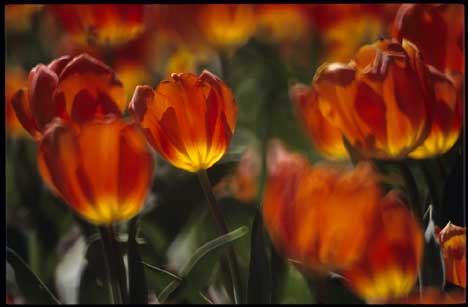 Visitors to campus will see a variety of flowers planted and cared for by Facilities Management, including tulips. Photo by of Duke Photography.
As many as eight employees planted flowers around campus and up to 35 spent the past few weeks mowing, mulching and aerating, seeding and fertilizing grass.
"We're just trying to keep campus as nice as we can," Thompson said. "With students studying or in exams, there are fewer people traveling around campus which allows us to get more grounds work done." 
Warming Up
All this week, contractors will work throughout the day and night to build the temporary stage on Wallace Wade's field where graduates will receive their diplomas. That means Duke Police officers will work overnight at the football field between 7 p.m. and 7 a.m. to make sure things run smoothly.
Commencement weekend officially kicks into gear Friday, when visitors begin to arrive for for individual schools' baccalaureate services. That means Parking and Transportation Services must be ready.
"As soon as students finish exams, we have to clear lots and get ready," said Renee Adkins, special events manager with Parking and Transportation Services.
That means bringing as many as 40 staff into work to help drive Duke buses, shuttles and golf carts to provide a ride for those who need help getting around campus, like grandparents or people with disabilities. During Duke's all-day baccalaureate services on Saturday, Parking and Transportation will have staff on campus from 6 a.m. to about 7 p.m.
The Big Day
"Commencement is symbolic of the columniation of significant academic achievement for our students and our staff work tirelessly behind the scenes to make the event a magnificent experience for students and their families," said Kyle Cavanaugh, vice president for administration. "Duke staff take these roles seriously and bring their entire being to create a wonderful atmosphere."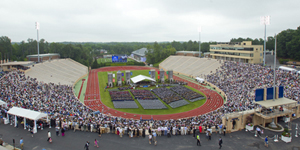 Duke expects thousands of students, friends and family to pack Wallace Wade Stadium for commencement this weekend. Photo by Duke Photography.
On Sunday, Facilities Management's Housekeeping and Grounds crews start work at about 5 a.m., cleaning about 3,000 foldable chairs on the football field and over 12,000 seats in Wallace Wade Stadium. They'll also place boxes of programs at the end of each stadium aisle and on every chair in the field.
About an hour later at 6 a.m. Pat Walker, general manager for Duke Stores, arrives with a dozen of her staff to set up stands with free soda and water for Duke community members and visitors. Over the course of the day, Walker said she expects to hand out about 10,000 bottles of water.
"I love seeing all the moms and dads dressed up and the students with flowers," Walker said.
Duke Police will also have staff arrive at Wallace Wade by 6 a.m. and as many as 45 officers will help with the event on Sunday.
Meanwhile, chatter on handheld radios will pick up when motorists start flowing onto campus between 7 and 8 a.m. to park. Adkins said she expects 1,500 to 2,000 vehicles this year and will have 38 golf carts to transport visitors who may have trouble walking to Wallace Wade Stadium.
Around that time is when Leigh Fickling and eight other staff from Duke's Disability Management System arrive at the stadium to set up tents and chairs for campus visitors. In addition to providing wheelchairs, there will be listening devices for those in need, and four sign language interpreters will translate the ceremony.
"We want to make sure we accommodate everyone as best we can," said Fickling, executive director of Disability Management.
After commencement begins at 10 a.m., it'll be time to take a breath. Until everyone files out of Wallace Wade, that is. Then it's back to work for staff as they help clean up and get everyone off campus safely.
"It's a busy weekend for everyone, but we've been doing this for a long time," Adkins said. "Doing this is like second nature to us."