Landscape Grows with Trees, Plants, Flowers
Duke maintains about 630 acres of campus landscape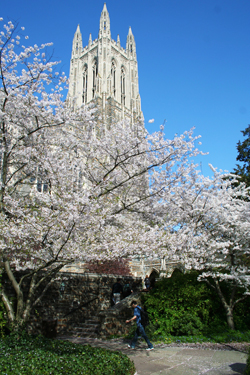 There are several aspects synonymous with Duke's campus, like Cameron Indoor Stadium and Duke Chapel. But what about the cherry tree?
Before construction on Duke's famed home basketball court or sky-scraping chapel was complete, ornamental cherry trees had a special place on campus as part of original plantings on the budding campus in the 1930s. Today, the trees' signature white and pink petals can be seen by the Sanford School of Public Policy, Brodie Recreation Center and Duke Chapel.
"When you look up at the chapel in the early spring when the cherries are in full bloom, it's hard to beat that perfect relationship of landscape and architecture working together," said Mark Hough, Duke's campus landscape architect. "The juxtaposition of architecture and those trees is pretty much perfection."
When it comes to utilizing and beautifying Duke's green space, a dozen Facilities Management staff members care for flowers, trees and shrubs. Another 40 assist with some form of maintenance for roughly 630 acres of campus landscape across Duke.
In the past decade, Duke has begun to focus on planting native and drought-resistant trees, shrubs and flowers as North Carolina crawls through long and hot summers. Hough said that Duke's commitment to sustainable building practices has influenced the use of trees and shrubs that require less water.
As spring unfolds across campus, here are floras to find and admire at Duke.
Abelias and Camellias
Abelias, left, and Camellias, right
These two shrubs feature green-leafed bushes that sit low to the ground and sprout pink flowers.
Camellias can be spotted along West Campus quad, next to the Languages Building and Kilgo Quadrangle. Camellias are tolerant against drought two years after planting and require little pruning.
While camellias are not native to the region, they've been used on campus for years and became popular since the 2007 drought.
Abelias are a drought-tolerant, evergreen plant that flower in the late summer. These plants aren't native to the state but have been on campus for about 80 years. Bees also love abelias, adding to ecological diversity on campus.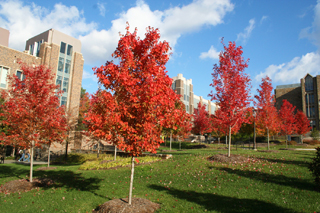 Red maple trees
Red maple trees
These trees light up campus with bright red and golden-orange colored leaves. Red maples at Duke have grown as high as about 60-feet tall and are popular on East Campus, where about 20 were planted along Buchanan Boulevard in 2010.
The success of these trees is part of why Duke has been named a "Tree Campus USA" by the Arbor Day Foundation five years in a row.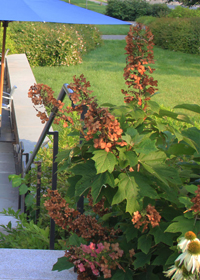 Oakleaf hydrangeas
Oakleaf hydrangeas
Offering a range of color - from white to burgundy - this breed of hydrangea is most notable by the School of Law and French Family Science Center.
"Their dramatic, oak-shaped leaves hold throughout most of the year and can be a bit striking," Hough said, noting the plants at Duke are ideal for warm, dry climates. "That makes them a no-brainer."