[Updated] Man Arrested for Breaking Into Central Campus Apartment
[Updated April 23, 2013] Hodari Grant has been charged by police in connection with two other burglaries on Central Campus on April 14 and 15.
++
Duke Police arrested a man early Sunday morning after a female student reported a man entered her unlocked apartment on Central Campus.
Hodari Grant, 35, 4033 Song Sparrow Drive, Wake Forest, N.C., was arrested and charged with first degree burglary and is being held under a $250,000 bond. He was also trespassed from Duke University.
The student called Duke Police about 2 a.m. and reported that an unknown man had just entered her apartment on Anderson St. The man fled when discovered and was picked up near Yearby St. after police observed him running from the area.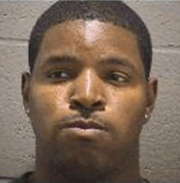 Hodari Grant
Police said that Grant also fits the description of the suspect in two similar incidents that occurred last weekend on Central Campus.
"It is unknown at this time, if the suspect will be charged in those incidents," said Major Jim Bjurstrom of the Duke University Police Department. "The investigation is ongoing."
Police later located the Grant's vehicle near Erwin Road in a parking lot with the keys in the ignition.
Kyle Cavanaugh, vice president for administration, commended the response of Duke Police in making the arrest so quickly.
"Duke Police responded immediately and were able to make an arrest within minutes of the call," he said. 
Police encouraged residents on campus to lock their doors and report safety concerns. Anyone with additional information about to this incident, please contact the Duke University Police Department at (919)684-2444.